People in Shanghai did not often go to Nanxun Water Town for day tour a few years ago, because it is further away from Shanghai than most other water towns. During last a few years, most water towns near Shanghai are becoming hotter and hotter and more and more familiar to people in Shanghai, so they begin to explore new water towns and they find Nanxun, where Chinese and Western cultures intermingle harmoniously, will meet their needs.
How to Go to Nanxun Water Town from Shanghai
Currently, taking a bus is the most convenient way to go to Nanxun from Shanghai. It costs you 50 RMB and takes around 2.5 hours. If you only want a day trip, we suggest you catch an early bus. As far as we know, the earliest bus to Nanxun departs at 6:35 AM from Hutai Road Bus Station every day. However, we suggest you check the bus time table at least one day prior to your departure, because the time table is often changed without notice. Below are the bus stations where you can take a bus from Shanghai to Nanxun.
| Bus Stations | Address of Bus Stations |
| --- | --- |
| Shanghai Long-Distance Bus Station | No.1666, Zhongxing Road, Zhabei Distirct |
| Hutai Road Bus Station | No.1015, Zhongshan North Road, Zhbei District |
| Pudong East Bus Station | NO.3843, Pudong South Road, Pudong Distrcit |
| Hongqiao West Bus Station | No.298, Shenhong Road, Minhang District |
| Shanghai Tourist Center Station | No.2409, Zhongshan South Second Road, Xuhui District |
Open Hours and Entrance Fee
All attractions in Nanxun are open between 7:30 and 17:00 from April 1st to October 31st, and between 8:00 and 16:30 from November 1st to next March 31st. The entrance fee is 100 RMB, which includes single entrance to 7 attractions.
Where to Go
The Nanxun Water Town is larger than most other water towns, so it is almost impossible to visit all the attractions. Please check out the must-sees for one-day tour in Nanxun below.
One-Hundred Residential Houses
Time for Visit: 60 Minutes
The area of One-Hundred Residential Houses is the most attractive part in Nanxun Water Town. You cannot find something similar in other water towns. The ancient houses in the area were built in by a high official in Ming Dynasty (1368-1644 AD). He built these houses for his servants. These houses were so ordinary that even gangsters and soldiers didn't try to destroy them or seize anything from them. That is why these houses are preserved so well till today.
These houses, painted in white, are located on the banks of a small river. Some ancient relics can be seen when walking on the banks and local people may wash clothes beside the river. We are sure that you will enjoy the atmosphere of history. Furthermore, there are fewer tourists in this part.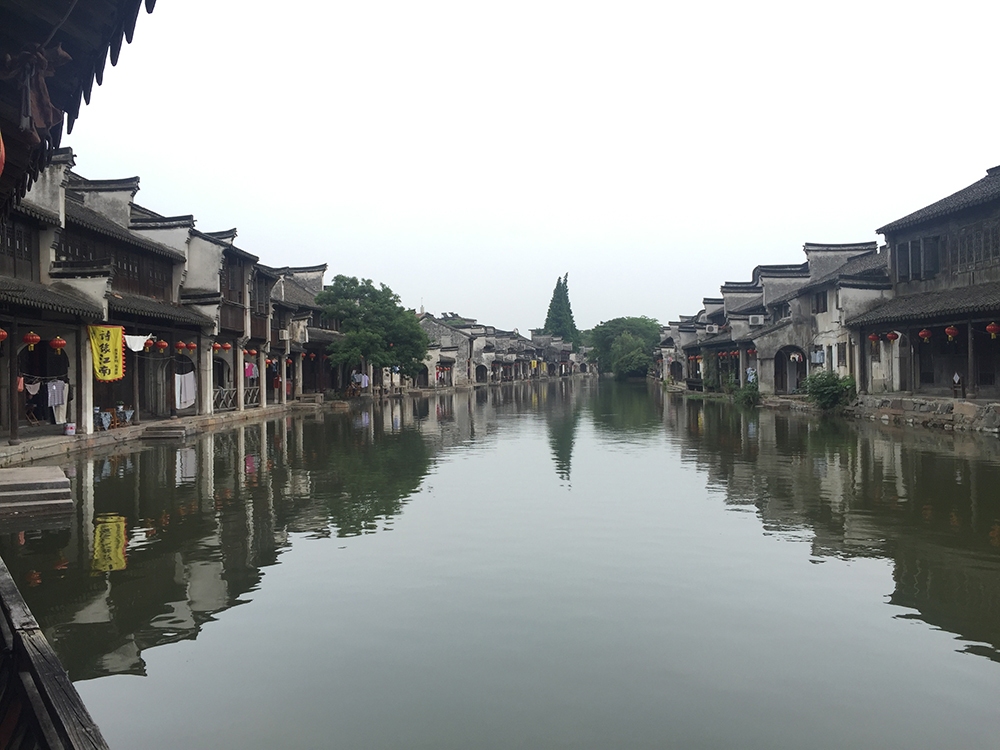 One-Hundred Residential Houses
Little Lotus Garden
Time for Visit: 30 Minutes
The Little Lotus Garden was a private villa. The scenery in the garden is not second to any ancient gardens in Suzhou. The pool full with lotus flowers offers tourists photo opportunities and a cool place to rest in summer. The exquisite decoration in the garden tells tourists why the former owner of the garden spent 40 years building it.
Liu Family Compound
Recommended time for stay: 30 minutes
Due to the color of the houses in it, the Liu Family compound is also called Red Houses. The outer part of the houses look the same with traditional Chinese houses while the inside decoration is all according to western style. It is amazing to know a Chinese people decorated his houses in this way 400 years ago.
What to Eat
Jiaotou Noodles-noodles with sauce which include chicken, beef, vegetable and soy sauce
Stinky Tofu- There are two options, fried or steamed stinky tofu
Qianzhangbao-stuffed buns boiled with vermicelli
Travel Tips
No entrance fee needed!-There is an entrance beside the area of One-Hundred Residential Houses. If you enter the Nanxun Water Town from this entrance, you needn't to pay entrance fee. However, you cannot enter any attraction in the town, except the One-Hundred Residential Houses.
Sculling boat-The Nanxun Water Town is very large, so it is better to take a sculling boat to go to the One-Hundred Residential Houses, where is far away from other attractions.
Making Writing Brush-There are lots of writing brush shops in Nanxun. You can make a writing brush by yourselves in these shops.
Nanxun Water Town Tour from Shanghai from $181