Some people ask if water towns are all alike. No, they are not all alike -- quite the contrary! When you visit water towns, you will discover that each one has its own unique characteristics. They have their own history, culture, scrumptious culinary delights, and a landscape representative of an ancient Chinese Calligraphy Painting. Depending on how much time you have to visit water towns, you may have to pick and choose. It will be a difficult choice, because in their own individual ways, they are all exquisitely Chinese!
Tongli – the Most Authentic Water Town
Tongli Ancient Town (Chinese: 同里古镇Tónglǐ gǔzhèn /tong-lee goo-jnn/) was constructed on the outskirts of Suzhou (Jiangsu Province) during the Song Dynasty (960–1279) and is the Most Authentic Water Town in China. It's located on Taihu Lake, Wujiang District 10 kilometers (6 miles) from Suzhou, and 80 kilometers (50 miles) from Shanghai. There are hundreds of ancient gardens in different water towns near Shanghai; Chinese Gardens are an integral part of Chinese Culture, and Tongli Water Town's classical gardens do not disappoint!
Tongli consists of 7 small islands divided by a network of 15 rivers and canals, which are connected by 49 ancient stone arch bridges in a variety of styles. Tongli has 47 temples, 38 Ming and Qing residences, and hundreds more residences with decorative gardens, formerly owned by powerful, wealthy people. Tongli is well-known all over the world and is one of the Six Famous Ancient Towns, South of the Yangtze River. It's also renowned for its architecture built during the Ming (1368-1644) and the Qing (1644-1911) Dynasties.
Tuisi Garden in Tongli was listed as one of the World's Cultural Relics by the UNESCO Heritage Site. Tuisi Garden, the Chongben and Jiaying Halls, the Taiping, Jili, and Changqing Bridges enjoy a reputation as being a "Natural Film Base." Countless films and television series about water towns, and other parts of the South Yangtze River, have been filmed in Tongli Water Town.
Beautifully and comfortably presented are good words to describe Tongli Water Town, Suzhou. A mindful stroll around its ancient streets and bridges is like a walk through paradise. It's no surprise Tongli has rightfully earned the title "The Venice of the East." You don't want to miss it!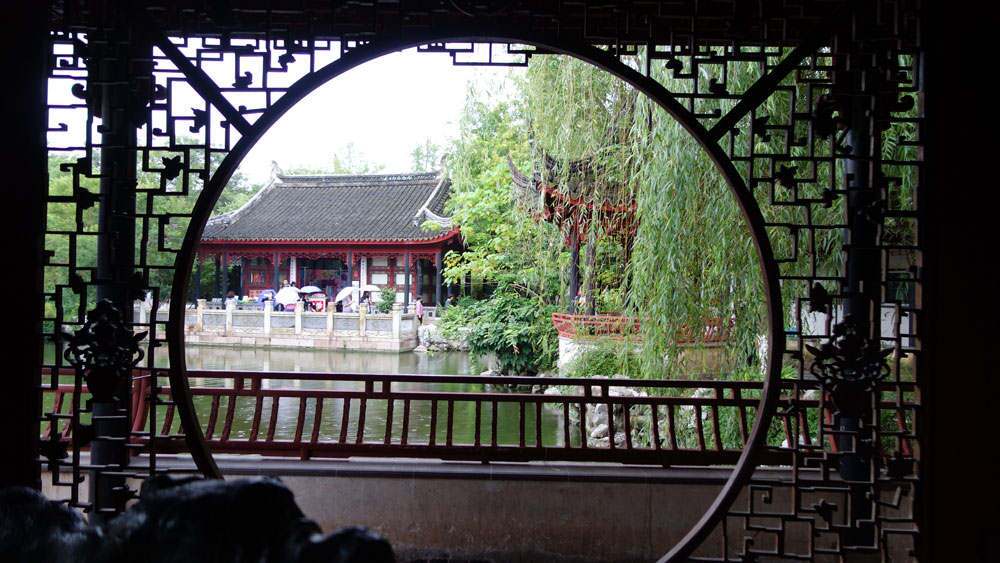 Tuisi Garden Tongli
Xitang – the Most Romantic Water Town
Xitang Water Town has an interesting 600-year history and is sometimes referred to as the "Youngest Water Town" in China. You will discover magnificent ancient townhouses and mansions built during the Ming Dynasty (1368-1644 AD) and Qing Dynasty (1636-1912 AD) in Xitang. The townhouses, and many streets and bridges in Xitang, are well preserved and still retain their original features from centuries ago. There is so much to see and do in Xitang, many tourists stay over for a night or two.
Xitang sets itself apart from other water towns because of its well-known covered corridors or "streets with roofs." You can comfortably walk along the covered corridors by the side of the canals to get out of the rain or sit in one of the many lounge chairs to refresh yourself and take a short respite from touring.
When the lanterns are lit after sunset, you can fall in love in Xitang. The ancient houses are reflected clearly on the peaceful surface of the rivers, making Xitang a very romantic atmosphere for lovers, and singletons as well! Xitang is committed to preserving its strong sense of identity and its history and culture. With its peaceful ambience, what's not to love about Xitang!

Xitang at Night
Wuzhen – the Water Town with the Strongest Cultural Flavor
The historic town of Wuzhen was built over 6000 years ago and is the Oldest Water Town in China. Most other water towns are much younger, and we believe Wuzhen will offer you the most unforgettable water town experience. You don't have to be a history lover to enjoy seeing the beautiful array of ancient stone bridges and pathways throughout Wuzhen. Wood carving plays a huge role in Chinese history and culture. During your tour of Wuzhen, stop by the Jiāngnán Wood Carving Museum. They have a nice collection, and their display of wood carvings is something you don't want to miss seeing!
We hope you will enjoy the following anecdote, a part of the history of Wuzhen!
In ancient China, students had to pass a first exam to qualify as successful candidates to take the Imperial Exam. If the candidates succeeded in the Imperial Examination, they had an opportunity to become rich and powerful government officials. There were over 200 successful candidates for the Imperial Examination in the history of Wuzhen. Most likely, there was at least one successful candidate in every house you visit in Wuzhen today. It is said that the more you visit these houses, the higher score you will get on your own exam!
We hope you enjoy your time in Wuzhen and make a memorable connection with its people, its history and its culture!

Ancient Private School in Wuzhen
Zhouzhuang – the Most Crowded Water Town
Visitors flock to Zhouzhuang, one of China's earliest water towns opened to tourism, to experience its beauty, rich history and cultural heritage. It's one of the most renowned water towns in China and is noted for its deeply-rooted cultural background, well-preserved ancient residential homes, and perhaps the most quintessential water views in the area! A tour of Zhouzhuang is definitely well worth the trip, even if it can get crowded!
Zhouzhuang is also famous for its local activities, including the popular sport of Scull Boat Racing, incredible River Lantern Festivals, joyful Temple Fairs and the Kun Opera Show, one of the oldest forms of Chinese Opera. Please note there is no set agenda for these activities.
Zhouzhuang is classified as a C-Scenic Spot by the China National Tourism Administration. China Central Television (CCTV) uses Zhouzhuang as an example to report the number of visitors at major tourist attractions, especially during national holidays. As a result of CCTV's report, Zhouzhuang has become even more crowded!
For a real taste of China, drop into one of Zhouzhuang's teahouses and order a refreshing cup of Greet Tea (Longjing in Chinese), and a tasty Wanshan Pastry. You can learn about Zhouzhuang's history with tea and buy some tea to take home with you.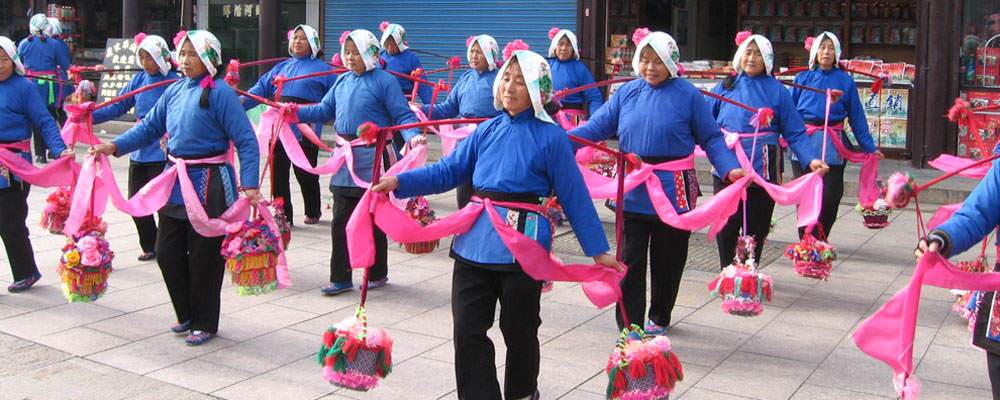 Zhouzhuang Local Festival
Nanxun – the Richest Water Town in Ancient Time
Nanxun Water Town has a history spanning more than 1,400 years and is well known for its long history of silk production.
Silk is one of a few star products in the History of China. The mild climate and plentiful rainfall in Nanxun makes the water town a perfect place to produce silk. In Ancient Times, rich merchants ran the silk factories; and the town folk made a living by raising silkworms and producing the silk. At the end of the 19th century, the top four rich merchants in the South Yangtze River area were from Nanxun. Many ancient tools to produce silk have been collected over the years and are on display in the Huzhou Silk Museum in Nanxun.
Nanxun is uncrowded and not commercialized, unlike many of the other water towns. Take a stroll along the canals and you'll see the locals as they carry out their daily routines and you'll witness the Chinese old town lifestyle, which still exists today. For a hands-on cultural experience, visit Liu's Family Compound 刘氏梯 (or Red House) and learn Chinese block printing, an old type of bookmaking technology. Also, you can make your own calligraphy brush and learn how to write your name in Chinese! Touring Nanxun is a culturally rich experience you will want to tell your family and friends about!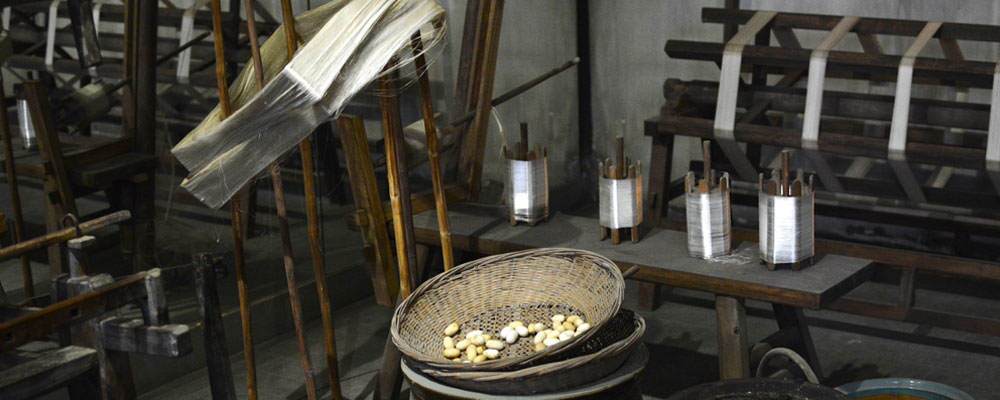 Ancient Silk-Weaving Tool
Luzhi – One of the Most Beautiful Ancient Water Towns
This beautiful town has an enriched history of more than 2,500 years. If you are looking for a city with peace and tranquility, look no further than Luzhi. Some of the most interesting historical and significant sites you will want to see in this reclusive, quiet, unassuming water town are:
Bridges in a multitude of interesting shapes and sizes (Ming Dynasty) .
Jiangnan Culture Park 2,500 Acres filled with many fun attractions!
Baosheng Temple Magnificent and has a History of more than 2,500 years.
Xiao's Mansion Elegant and Well-preserved (Qing Dynasty).
Wansheng Rice Shop Established 1910; still operating; quaint and interesting – reminiscent of the old days. You will want to take a lot of pictures here!
The natural beauty of Luzhi makes it an incredibly beautiful, charming, and serene Water Town. It will steal your heart away and bring you back again and again.
Jinze, Liantang and Fengjing – the Least Commercialized Water Towns
Compared with the Water Towns listed above, Jinze, Liantang and Fengjing are less commercialized and all have different characteristics. We encourage you to visit them; you will enjoy a relaxing atmosphere in these picturesque Water Towns, which will help you appreciate the history, culture, and beauty of Water Towns even more!