Shanghai to Zhouzhuang Buses
It usually takes you 2 hours and costs you around 50 RMB to go to Zhouzhuang from Shanghai by bus. You can take buses from the stations listed below. The exact schedules and prices can only be checked at the bus stations.
| Bus Stations | Address of Bus Stations |
| --- | --- |
| Shanghai Long-Distance Bus Station | No.1666, Zhongxing Road, Zhabei Distirct |
| Huangpu Tourist Center | NO.1588, Waima Road, Huangpu District |
| Pudong East Bus Station | NO.3843, Pudong South Road, Pudong Distrcit |
| Hongqiao West Bus Station | No.298, Shenhong Road, Minhang District |
| Shanghai South Long-Distance Bus Station | NO.666, Shilong Road, Xuhui District |
Open Hours and Entrance Fee
Open hours: 8:00-21:00
Entrance Fee: 100 RMB for daytime (8:00-16:00), including all the 15 attractions. 80 RMB for night (16:00-21:00), only Zhang Residence and Shen Residence are open during night.
Tour Route for One-Day Zhouzhuang Water Town Tour
The first place to visit in Zhouzhuang is the museum, where you will get an overview of the 1000 years' history of Zhouzhuang. And then have a look at the exquisite Mi Lou. The Quanfujiang Temple and Nanhuqiuyue garden are the places to enjoy ancient garden views. A sculling boat ride is an indispensable activity for any water town. The Zhang and Shen residences show you the luxury lives of rich merchants in ancient times. The last recommended attraction is the twin bridges, where you will find a fantastic scene for photo.
Zhouzhuang Museum
Recommended time for stay: 1 hour
The museum was owned by a local people of Zhouzhuang when it was initially built in 1912AD. Agricultural tools, paintings, handcrafts and vintage photos are the elite exhibits. Every part of the museum tells a historical story of Zhouzhuang. It is a great place to get an outline of the attractions you will see in Zhouzhuang.
Mi Tower
Recommended time for stay: 20 minutes
It takes only 5 minutes to walk from Zhouzhuang Museum to Mi Tower. The wood tower was a restaurant. Local poets liked to admire the water town views on the tower. They believed they could get inspired by enchanting views.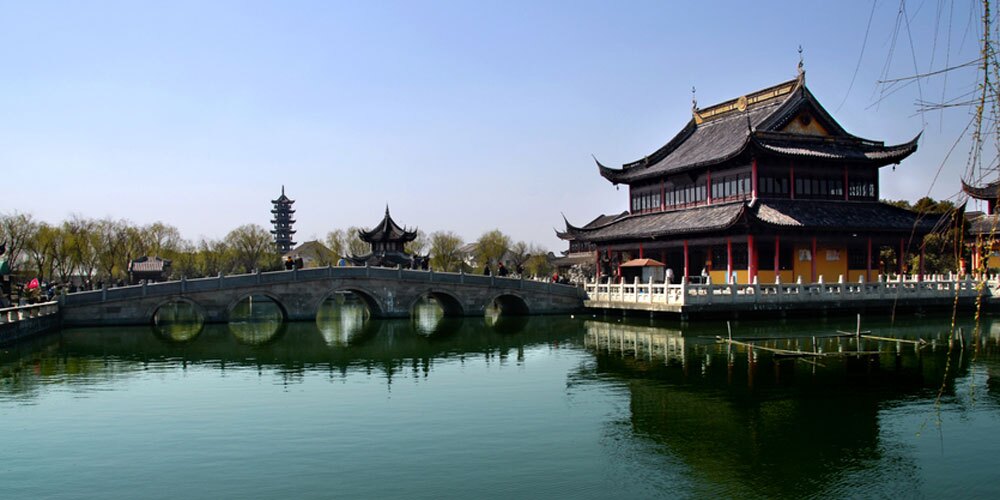 Nanhu Qiuyue Garden
Quanfujiang Temple
Recommended time for stay: 30 minutes
The temple is located on a lake, so it is much quieter than other attractions in Zhouzhuang. It is said that people can understand the Zen spirit by hitting the huge bell in the temple.
Nanhu Qiuyue Garden
Recommended time for stay: 2 hours
Nanhu Qiuyue Garden is the essence of the essences in Zhouzhuang. Whenever you visit the garden, you can find all the four seasons' view in the garden. Besides, there is a lake, which covers an area of 0.66 square kilometers, in the garden. The lake provides both fishes and tourists with best place to relax.
Ancient Town Water Lane Tour in a Sculling Boat
Time for the tour: 20 minutes
You will take a sculling boat ride on the water channels in Zhouzhuang. The exquisite houses on beside the water channels and your helmsmen's singing will make you feel like cruising in a Chinese traditional painting.
Shen and Zhang Halls
Recommended time for stay: 100 minutes
Both Shen and Zhang Halls have a history of over 300 years, and they were both owned by rich merchants in Zhouzhuang. The paintings, calligraphy works and furniture in these two halls show you the most authentic culture of Zhouzhuang.
Twin Bridges
Recommended time for stay: 10 minutes
The Twin Bridges form a circle with their shadows in the river below them, so it is the best part for photo opportunity in Zhouzhuang.
Travel Tips
Zhouzhuang Water Town is not so big. You can go to every attraction on foot. Automobiles are forbidden in the town.
Keep your tickets safe, because the staff will check your tickets at every attraction.
If you want to stay in the guesthouses in the town, it is better to confirm if the price contains the fee for air-conditioner, otherwise the owners may not let you use it.
Zhouzhuang Water Town Tour from Shanghai from $139