Nanxun Water Town Tours
Established 750 years ago, the Nanxun Ancient Water Town developed during the Ming Dynasty (1368-1644 AD) into one of the richest towns in China. Silk was the product which brought enormous fortune to merchants in the town. With the arrival of the marine Silk Road, merchants not only did more and more business with westerners, but also learnt advanced science and ideas from their business partners.
Local merchants admired both Chinese and Western culture, so they decided to build their houses according to both Chinese and western styles. Fortunately, Nanxun survived countless wars and revolutions over the last 750 years, and it is better preserved than most other ancient water towns.
Unlike some other ancient water towns, Nanxun is still inhabited. Furthermore, it is free to visit the town after 17:00 each day. Although tourist attractions and most shops will be closed after 17:00, tourists can still take a stroll through the town and observe the local people's life. In some respects, the authentic town only emerges after 17:00 anyway.
Highlights in Nanxun Ancient Town
Baijianlou Ancient Houses Area
With a history of over 400 years, the ancient houses in the area of Baijianlou are must-see attractions in Nanxun. Baijianlou means "one hundred houses" in Chinese, but actually there are around 120 houses located on both banks of a river in the area. While walking among these historical houses, you will forget that you are living in the modern world.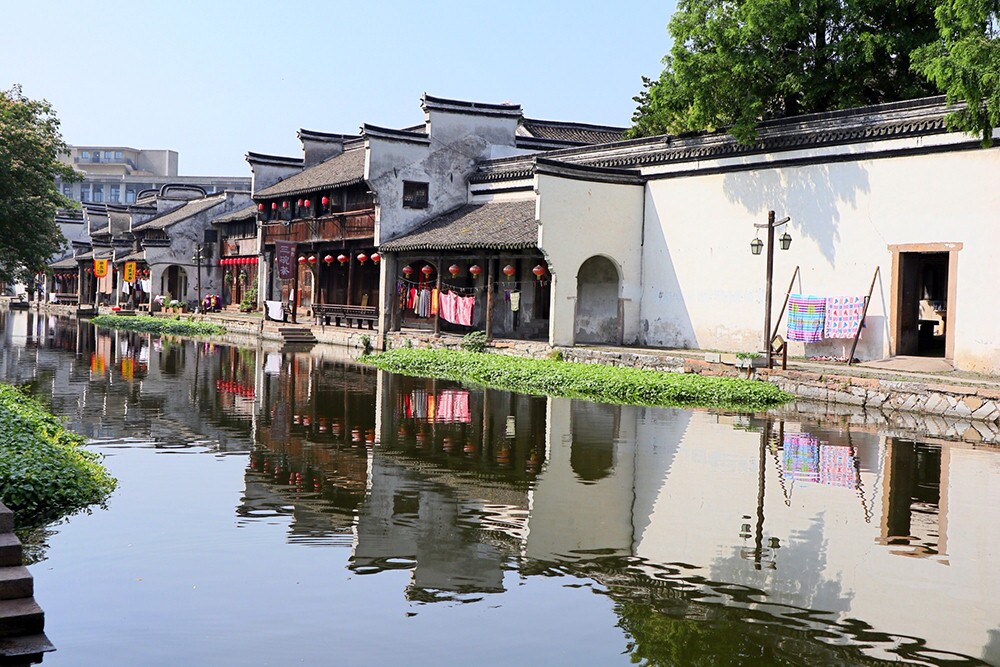 Baijianlou Area
Former Residence of Zhang Shiming
Zhang Shiming (1871 - 1927) was one of the richest merchant in Nanxun. Western culture was widely spread in China at that time. He did business with foreign merchants and built his houses in the style of both Chinese and Western styles. The outside part of the houses of his former residence may make you think these are Western houses, but the indoor decoration is based upon Chinese style, however, some of the furniture was bought from foreign merchants, such as sofas, chairs and tables.
Block Printing in the Liu Family Compound
The original owner of the Liu Family Compound was Liu Ansheng, a rich merchant and government official in the Qing Dynasty (1636-1912 AD). The compound is a showpiece highlighting the special architecture in Nanxun. It is good fun and a memorable experience to learn block printing in the compound. Tourists can also learn their Chinese names during the block printing lesson. The outside part of the houses in the compound are all painted in red. Tourists like to use these houses as background for photos.
Wedding Show on Water
There are at least 10 ferries engaged in the wedding on water. All are decorated with red flowers and ribbons, because the color red is an indispensable element of a Chinese wedding. The bride and groom stand on the first ferry, waving to tourists on the banks. Sometimes, they even invite tourists to hop on to their wedding ferry.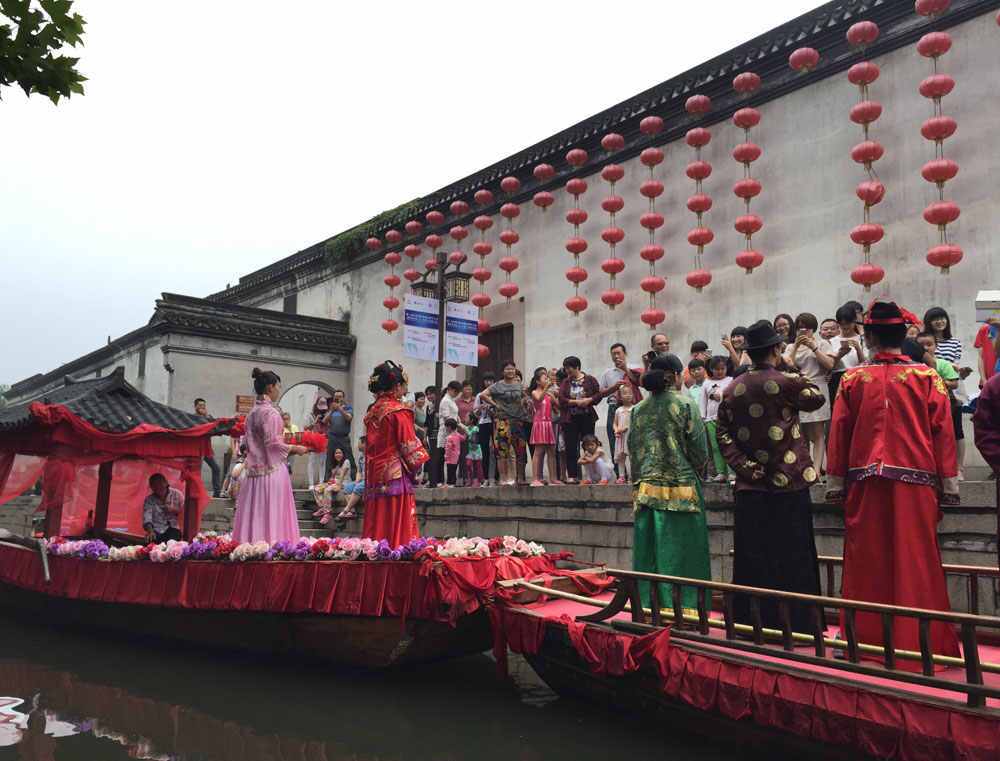 Wedding Show on Water
Xiaolianzhuang
When it was built in 1885, Xiaolianzhuang was a private garden. Its original owner was Liu Yong, one of the richest men in Nanxun's history. It took Liu Yong and his descendants 40 years to finish the building project. The lotus flowers in the garden attract thousands of photographers every summer, when they are at their best. Teachers in the garden will help tourists make their own Chinese writing brushes and tourists can then try their hand at drawing the flowers, using their own brushes.
Jiayetang Book-Collection House
Built in 1920, over 111,000 books are stored in the 52 rooms of Jiayetang Book-Collection House. Both the old books and house are reserved very well. The hall is connected with Xiaolianzhuang by small bridges. You are suggested to admire the books and rooms in the house first, and then take a rest in Xiaolianzhuang.
Guanghui Temple
Guanghui Temple plays a role of city god temple in Nanxun. Local people believe the statues of good in the temple will bring them good luck and peace.
Former Residence of Zhang Jingjiang
Zhang Jingjiang was a revolutionist, who overthrew the Qing dynasty (1616 - 1912) with Sun Yat-Sen. The photos of Zhang Jingjiang, attached with introduction to his great achievement, are exhibited in his former residence.
Jili Silk Museum
Silk is the most renowned local product in Nanxun. The best silk produced in Nanxun is the major exhibition in this museum. Besides, you can learn about the process of producing silk in ancient time via the ancient machines in the museum.
Qiushuli
It was a villa built in 1930s. Now, it is a house to exhibit the photos taken by its former owner's brother. The popular art style in 1930s is reflected by these photos.
Buses between Shanghai and Nanxun
From Shanghai to Nanxun
There are 40 buses to Nanxun every day, from 5 bus stations in Shanghai. Normally, it costs about 50 RMB and takes about 3 hours to go by bus from Shanghai to Nanxun. When you arrive at the bus station, you can walk to the entrance of the water town. It takes only 20 minutes. Please refer to the timetable below.
| Bus Stations | Address of Bus Stations | Departure Times |
| --- | --- | --- |
| Shanghai Long-Distance Bus Station | No.1666, Zhongxing Road, Zhabei Distirct | 6:50, 7:20, 8:10, 9:30, 10:15, 11:30, 13:20, 14:40, 15:20, 16:20, 17:30, 18:40 |
| Hutai Road Bus Station | NO.1015, Zhongshan North Road, Zhabei Distirct | 6:55, 8:00, 10:00, 11:20, 13:20, 14:25, 17:30 |
| Hongqiao West Bus Station | NO.298, Shenhong Road, Minhang Distrct | 7:45, 8:51, 10:40, 11:40, 12:06, 12:39, 13:30, 14:20, 15:10, 17:16, 18:10, 19:15 |
| Pudong East Bus Station | NO.3843, Pudong South Road, Pudong Distrcit | 7:50, 9:20, 10:50 |
| Shanghai South Long-Distance Bus Station | NO.666, Shilong Road, Xuhui District | 7:15, 8:35, 9:55, 11:19, 17:23, 19:29 |
From Nanxun to Shanghai
There are 10 buses from Nanxun to Shanghai every day. They all depart from Nanxun Bus Station and arrive at Shanghai South Long-Distance Bus Station. The departure times are 7:20, 8:40, 10:20, 11:05, 12:20, 13:25, 13:55, 15:10, 16:40 and 17:50.
Please note that bus timetables may change without much notice. It is advisable to check up-to-date timetables at the bus stations.
Nanxun Travel Tips
The pastries in Nanxun are must-eat.
The Canhua Festival is celebrated between April 5th and 8th every year. The celebrations include a boat race, kungfu show and ritual dance.
Although Nanxun Ancient Water Town only covers an area of 34 square kilometers, tourist attractions there are distributed widely, so tourists may want to spend two days covering all the highlights.
There are lots of restaurants along the central river in Nanxun. They offer not only delicious food but also beautiful river views.