Suzhou Tours-Admire the Most Elegant Gardens
China's most elegant ancient private gardens are located in Suzhou. You will understand the local people's elegance and wisdom via these gardens. Humble Administrators Garden, Lingering Garden and Lion Grove are the best among the many fantastic gardens with its ingenious design, exquisite beauty and splendid architecture. The Grand Canal which passes through vibrates the city and creates a prosperous view of "Oriental Venice".
Guide Map for Suzhou and The Transportation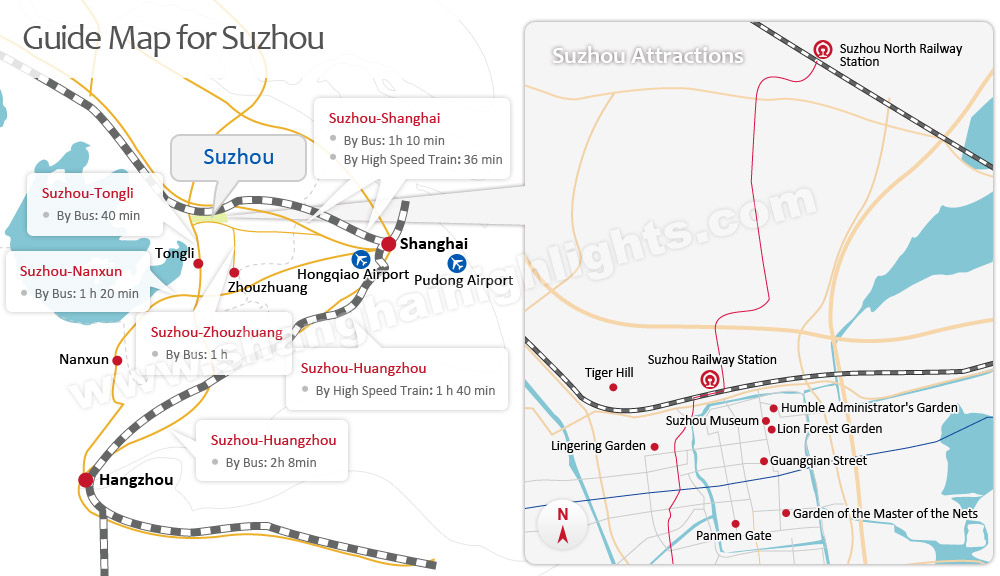 Four Common Questions Travelers Asked
How to get to Suzhou?
Trains: Taking high-speed trains is the most popular way to visit Suzhou, espeically from Shanghai and Hangzhou. Though there are many train services between these cities every day, it would be wise to book the ticket at least 2 days ahead of your departure date to ensure the availability.
In Shanghai, most D-trains depart from Shanghai Hongqiao Railway Station (Shanghai Hongqiao) and G-trains depart from both Shanghai Hongqiao Railway Station and Shanghai Railway Station (Shanghai).
In Suzhou, D-trains and G-trains depart and arrive at Suzhou Railway Station (Suzhou) and Suzhou North Railway Station (Suzhoubei). Suzhou Railway Station is located at downtown Suzhou for all types of trains and Suzhou North Railway Station is newly built in Xiangcheng District especially for high-speed trains.
In Hangzhou, D-trains and G-trains depart and arrives at Hangzhou Railway Station (Hangzhou) and Hangzhou East Station. Hangzhou Railway Station is located at downtown Hangzhou near West Lake while Hangzhou East Station is located at suburb of Hangzhou.
Destinations
High-speed Trains(D-trains/G-trains)
Travel Time

Shanghai-Suzhou

Suzhou-Shanghai

Departs during 06:00-22:33 every day Almost 5-30 minutes once a service

Departs during 06:52-22:50 every day Almost 5-30 minutes once a service

27 - 44 minutes depending on the train

Hangzhou-Suzhou

Suzhou-Hangzhou

Departs during 08:07-20:29 every day Almost 5-30 minutes once a service

Departs during 08:03-19:15 every day Almost 5-50 minutes once a service

1 hour and 25 minutes- 2 hours and 6 minutes depending on different trains
Buses: Bus service is available between Pudong Airport in Shanghai and Suzhou City. It takes about 3 hours at 84 Yuan and departs from 10:00-20:40. Click for details:Buses from Pudong Airport to Neighbouring Cities .
Bus also connects Shanghai/Hangzhou and Suzhou. However, we do not recommend you take the bus by yourself unless you cannot get a high-speed train ticket or you can speak basic Mandarin. We also provide non-smoking air-conditioned private cars from Shanghai/ Hangzhou to Suzhou or vice versa.
Flights: There is no airport in Suzhou City as it is very close to Shanghai with two international airports and Wuxi with one international airport.
Notes: We try to provide the transportation information as correct as possible. However, they are subject to change according to different situation.
What is the best time to visit Suzhou?
Suzhou is suitable for visiting all year round regarding the scenery it boasts. However, considering the crowds, we suggest you avoid Summer Holiday and all Chinese holidays like May Day Holiday(May 1- May 3), National Holiday(October 1 - October 7) and Chinese Spring Festival.
As for the weather, the most comfortable seasons to visit would be Spring(April and May) and Autumn(September and October) when there are not too many visitors, too.
What are must-see attractions and what should I avoid?
Basing on the feedback of our customers, Suzhou garden, a water town, the ancient canal and local experience are must-see and must-do.
Suzhou Great Four Gardens: they are all listed in UNESCO World Heritage site - Humble Administrator's Garden, the Lingering Garden, the Garden of the Master of the Nets and the Lion Forest Garden. Actually seeing a couple is enough, unless you have a deep interest in classical Chinese gardens.
Humble Administrator's Garden is the most famous and the biggest while the Lingering Garden may be less crowded due to it being farther away from the train station.
Water towns near Suzhou: they are Zhouzhuang, Tongli and Nanxun, which are three out of Jiangnan Six Great Ancient Towns. Seeing one water town is enough. Zhouzhuang and Tongli are just 40 minutes drive away from Suzhou. Nanxun is about 1 1/2 hours drive away from downtown Suzhou. A day trip from Suzhou or Shanghai will both be enough and worthy.
Zhouzhuang is the biggest with great reputation and Tongli is the most popular one with foreigners due to its typical scenery and less crowds. Nanxun is the most recommended by westerners living in China thanks to its cool buildings and long history.
The ancient canal: it is the longest ancient canal in China. A motor-boat ride on the canal is a cool way to enjoy sightseeing. Do not miss it.
The experience: take a rickshaw ride through the Suzhou Old street and a local market. It is a very different way to see the real Suzhou.
Others:
Tiger Hill and Pan Gate are very famous especially among Chinese visitors. But foreigners are not into them too much. You can skip them unless you get several days on hand.
There are three famous streets: Shantang Street, Pingjiang Road and Guanqian Street. Actually only Pingjiang Road is charming enough to get a glimpse.
Suzhou Silk Museum is a rather controversial site. On one hand, it tells the silk history in the museum and provides the demonstration of how silk is made from the silk worm to the last step, which are really fascinating and worth visiting; on the other hand, it also sells silk that most visitors view it as a tourist trap. Fairly speaking, you will find the price is quiet competitive for the silk quality if you do some research on the silk market in Suzhou.
How to visit Suzhou and how long should I stay?
Hire a qualified local English-speaking guide. You may have traveled alone without a guide and knowing local language for most part of the world, but in China with mases of people and virtually no people speaking English, you would need a private knowlegable local guide. Also, with the gardens and water towns being the main sites, a guide is very neccesary to show you around and connect the attractions and the history behind the sites.
For short stay visitors in Shanghai. Usually a day trip on a comfortable level for Suzhou City itself is enough from Shanghai by car, including garden visiting, a boat ride on the canal and the rickshaw ride. Suzhou deserves more than a half day and the gardens are to be enjoyed in leisure instead of rush.
It is also doable to visit Suzhou and a water town as a day trip from Shanghai. The suggested itinerary would be visiting a garden, taking a boat ride on the canal and enjoying a water town nearby. Usually Tongli or Zhouzhuang are recommended. The time might be a bit tight.
We do not recommend you take a day trip to Suzhou City by bullet train because of too much stress. You can only consider it if you confirm your round-trip tickets in advance and are able to catch the train by yourself on time.
For weekend trip or a 3-day side trip from Shanghai. If you got 2 days, it is really advisable to enjoy one night in Suzhou or a water town. You can do the Suzhou City day trip and then transfers to a water town nearby for the quiet night and lovely morning.
If you are lucky to have 3 days, you can take a bullet train tour for Suzhou, a water town and Hangzhou. Hangzhou is blessed with totally different scenery and experience from Suzhou.
For part of China trip planning. Suzhou, Hangzhou and a water town would be the real highlight of your China trip since most people only do the trip with Beijing, Shanghai and Xi'an. Two nights in Suzhou with a water town and two nights in Hangzhou are enough, which is 5 days and 4 nights in total.