Huangshan Tours
Huangshan, or Yellow Mountain, has been voted the best of China's four famous mountains with its breathtaking natural scenery which varies from season to season. It boasts all the charms of the notable mountains of China and presents a spectacular view with four notable natural wonders: oddly-shaped pines, rock formations, the seas of clouds and its hot springs. The ancient Hongcun Village and Xidi Village in Shexian County presents a tranquil image with Ming and Qing Anhui style buildings and the slow paced life of the locals.
Guide Map for Huangshan and The Transportation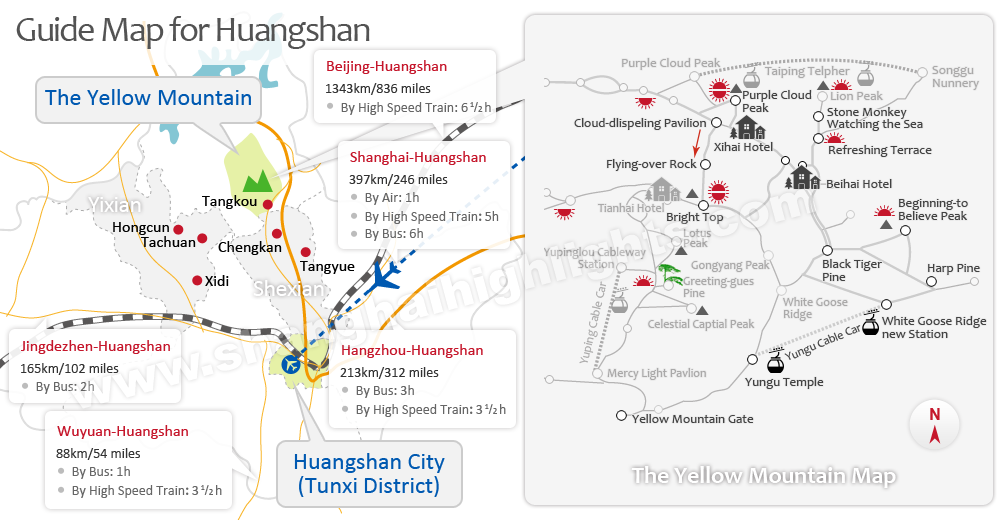 Common Questions Travelers Asked
How to get to Huangshan?
Flights: Flights are connected between Tunxi Inernational Airport in Huangshan City and major cities in China, e.g, Beijing, Shanghai, Xi'an, Guangzhou, Chengdu and Guilin. Most visitors choose to fly from Beijing or Shanghai.
Destinations
Flights
Travel Time

Shanghai-Huangshan

Huangshan-Shanghai

FM9267(14:20-15:25)

FM9266 (22:45-23:40)

65 minutes

Beijing-Huangshan

Huangshan-Beijing

CA1551(18:10-20:10)

CA1552(20:55-22:55)

2 hours

Guangzhou-Huangshan

Huangshan-Guangzhou

CZ3627(19:45-21:25)

CZ3627(22:15-00:05)

1 h and 40 minutes
Trains: Trains are available between Huangshan and most big cities in China, such as Shanghai, Suzhou, Hangzhou and Beijing. However, we only recommend you take high-speed trains from Shanghai, Hangzhou and Beijing, instead of using overnight trains. It is faster and more comfortable.
Destinations
High Speed Trains
Travel Time

Shanghai-Huangshan

Huangshan-Shanghai

G1509/G1508(08:27-13:13)

G1507/G1510

4 hours and 46 minutes

Hangzhou-Huangshan

Huangshan-Hangzhou

G1509/G1508(09:32-13:13)

G1507/G1510(14:33-17:50)

3 hours and 17 minutes

Beijing-Huangshan

Huangshan-Beijing

Departs during 07:48-15:25 every day | 8 high speed train service every day

08:08-15:24 | 8 high speed train service every day

6-7 hours
Buses: Bus connection between Huangshan City and its neighboring cities is convenient. It takes at least 6 hours to Huangshan from Shanghai, Nanjing and Suzhou while only 3 hours from Hangzhou. If you have to choose bus, it would be good to start from Hangzhou.
What is the best time to visit Huangshan?
The Yellow Mountains are the real sites suitable for travel all year round. Actually many Chinese would like to visit it for four times to enjoy its different charms. No matter in which season you are planning to visit, you won't be disappointed. However winter is believed to be the season with more possibility for viewing the sea of clouds. Do remember to avoid all holidays in China, e.g. May Day Holiday (May 1 to May 3) and National Holiday (October 1 to October 7).
How to visit Huangshan and how long should I stay?
Use cable cars for ascending and descending the mountain. Round-trip cable cars are available. We don't recommend you hike all the way but just hike for the real essence of the Yellow Mountains, unless you are totally physically prepared for that.
Hire a local English-speaking guide. Nearly nobody speaks English on the mountain, which means you should never waste your precious time on useless asking for information or directions. Road signs are not very clear to foreigners. It will be easier and makes the trip more enjoyable with a local guide knowing the way well and foreigners' way well.
Make sure you are up for the sunrise or sunset, so quit the idea of taking a day trip. Though the chance of viewing the sunset or sunrise is slim at some time, at least you should make a try. And spending one night on the mountain will help your trip more enjoyable. You won't want to rush for the time and ruin the trip.
Three days and two nights are recommended for a first-timer. Usually we recommend our customers stay one night at downtown Huangshan City for rest and Tunxi Old Street. Leave the heavy luggage at paid storage in the hotel, which our guide will ask the hotel to take care of it. Then head for the mountain trip for 2 days and 1 night, including visiting a local ancient village near the Yellow Mountains.


What Does Huangshan, Yellow Mountain and Tunxi Mean?
Huangshan is a city located in the Anhui Province of China.
Yellow Mountain is one of the most renowned mountains in China. It is 60 kilometers away from the city of Huangshan.
Tunxi is a district in the city of Huangshan. The only airport of Huanshang city is located in this district. The old streets in this district are popular tourist attractions.