Xian Tours
As the capital of thirteen dynasties, the city of Xi'an is honeycombed with fascinating remnants and brilliant culture.
The icon of the city - the Terra Cotta Warriors and horses of the first emperor Qin Shihuang , is an awe-inspiring sight with alleys of soldiers, horses and chariots ranked in battle array and each with unique facial presents. The most complete ancient city wall, the Shaanxi History Museum with comprehensive historical treasures and the well preserved Hanyang Tomb are also great choices to get a touch with the city's glorious history.
75 miles from Xi'an, The Mt. Huashan, one of the five sacred mountains in China, offers an overwhelming thrilling experience with its precipitous crags, narrow and steep paths.
Xian Attraction Map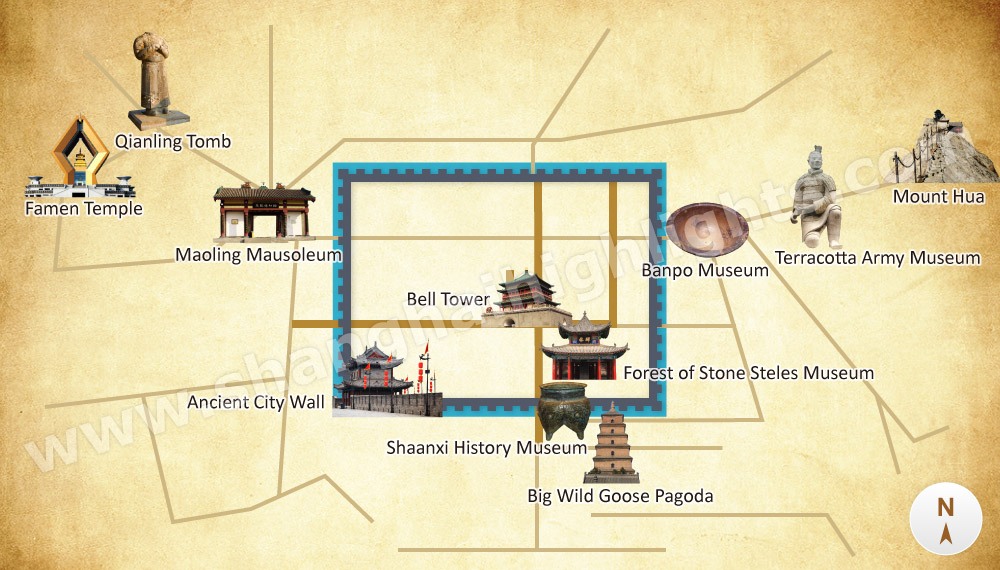 Most Asked Questions by Travelers
Is it possible to travel around Xian by subway?
It is not so convenient now, because only lines 1 and 2 have been put in use in Xian now, but they do not pass major tourist attractions. We will update the subway information in Xian here. Please check it out later.
Which buses go to the Terracotta Warriors Museum?
You can take bus 307, 914, 306 and tourist 5.
What to eat and buy on the Muslim Quarter?
Food
Fried Bun with Mutton or Beef Soup – Fried bun is cut into small pieces and mixed with mutton or beef soup.
Cold Noodles with Sesame Sauce – It is said the cold noodles can keep you warm in winter and cool in summer.
Roasted Mutton or Beef – It is the most renowned Muslim food in the quarter.
Souvenirs
Paper Cut – Local people's favorite decoration for traditional festivals.
Shadow Play – If you watch the shadow play show in Xian, you want to buy it.
Muslim Costumes and Shoes – The exquisite costumes and shoes show you the wisdom of the Muslim in Xian.
What is the best route for a Mount Hua tour?
We suggest you take a cable car to the West Peak first, and then hike to the South Peak, where you can walk on the Changkong Plank Path. The plank path is so steep that you have to catch hold of the chains beside the path to keep balance and move forward. After the South Peak, you want to get down by cable car from the North Peak.
Where will you recommend if I want to travel to some places near Xian?
Luoyang – It takes only 1.5 hours to go to Luoyang from Xian by high-speed train. It is an extension to your history course started from Xian. The Longmen Grotto, featured with the relics of Buddhism, is the most renowned tourist attraction in Luoyang.