Day 1
Shanghai to Xian by China Eastern Airline MU2152 (Shanghai Hongqiao Airport T2 - Xian Xianyang Airport T3) Dep 08:20 - Arr 10:50,Xian to Shanghai by China Eastern Airline MU2169 (Xian Xianyang Airport T3 - Shanghai pudong Airport T1) Dep 21:00 - Arr 23:35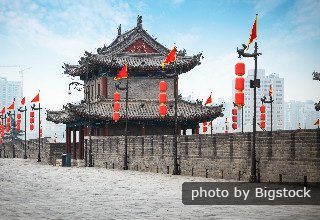 Your Shanghai guide will contact you before your departure day and make sure all the logistics are correct. You will be transported from your Shanghai hotel lobby in the morning with a private car to the airport for your Xi'an flight. Your Shanghai guide will escort you to the airport and help you board the plane.
After a 1 hour and 35 minute flight, you will meet your Xi'an guide at the airport who will show the essence of Xi'an. First, be picked up and transferred to the Terracotta Warriors and Horses which is about 1 1/2 driving hours. This marvelous wonder is the tomb of the first emperor of China, Emperor Qin dating back to 210BC. You will see at least three pits there. Your Xi'an guide will share the interesting stories behind the wonder. An electronic bike is arranged for you there to save your time and escape the summer heat and winter chill.
Enjoy a local Chinese lunch after the visit. Then head forward to the ancient City Wall in the city center. Biking around the City Wall is included, and is the best way to enjoy this sight. You can take in the great contrast of the ancient culture and modern Xian while biking on the wall. The walls, ramparts, gates and watchtowers, which were built in the 13th century can still be seen. If the weather is not so fine for biking, your Xi'an guide will be glad to take you to the Bell Tower after visiting the City Wall.
When the Xi'an tour finishes, you will be transported to the airport to take your flight back to Shanghai via the private car. Upon your arrival at the airport in Shanghai, your Shanghai guide is already there waiting for you to pick you up and take you to your Shanghai hotel.
Meals: Lunch at Popular Local Restaurant
Hotels: