A major China railway network hub, Shanghai has four railway stations. They are Shanghai Railway Station, Shanghai West Railway Station, Shanghai South Railway Station and Shanghai Hongqiao Railway Stations. Trains to surrounding cities are very convenient (within 2 hours), such as Hangzhou, Suzhou, and Nanjing.
Purchasing Tickets
At these four stations both ticket windows and the self-service ticket machines are available. Outside the stations there are also Train Ticket Offices in different areas of the city which require an extra fee of 5 yuan/ticket. It is wise to buy tickets more than 10 days in advance if you need to take the train during Chinese holidays like May Day, National Day (October 1), summer holidays, and the Spring Festival (in January or February). See Shanghai Train Schedule.
Shanghai Railway Station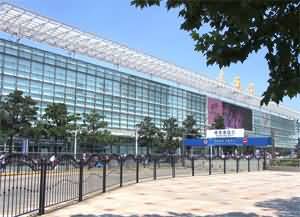 Shanghai Railway Station (上海站 Shanghai Zhan) is also referred to as The New Railway Station (新火车站 Xin Huochezhan) by local people as it replaced Shanghai North Railway Station, which was "The Old Railway Station". Shanghai Railway Station became Shanghai's major train station from 1987. Since then it went through two large renovations in 2006 and 2008, and finally came into its current state on May 29, 2010. Now it has a north building and a south building.
Trains it offer
This station mainly serves north-south and westward directions.
Since it is the terminus of the Beijing–Shanghai Railway Line, five CRH (China Railway High-speed) trains are available every day from Shanghai to Beijing. There are also two non-stop deluxe Z trains from Shanghai to Xi'an. CRH trains to Shanghai's neighbors, like cities in Jiangsu Province and Anhui Province number more than 50.
Shanghai Railway Station has T trains, which are 'special trains' only stopping at major stations, to about 13 northern cities, like Dalian, Beijing, Urumqi, and Yangzhou. T trains also go to Kowloon in Hong Kong from this station. K trains, referring to "fast trains", go to some northern cities like Harbin and Shijiazhuang and some westward cities like Kunming and Wuhan.
Shanghai Railway Station also serves as an intermediate stop for through trains from the north to the south of China. There are many other slower trains using this station, but they are not recommended.
Facilities
The station has eight ordinary waiting rooms and a special waiting room for passengers taking soft-berths. In and around the station there is no shortage of fast-food restaurants.
Transportation
Located at 303 Moling Road, Zhabei District, transportation from Shanghai Railway Stations to various districts in Shanghai is very convenient. We would recommend you take the subway or taxi, which are the fastest way at reasonable prices.
By Subway
The station is accessible by Subway Lines 1, 3, and 4. Lines 3 and 4 share the track through Shanghai Station. Transfer to Line 2 for Hongqiao Airport or Pudong Airport.
By Taxi
Taxies are at the underground taxi stop in the South Square. The flag down rate for a taxi in Shanghai is 14 yuan from 05:00–23:00 within 3 km and 2.4 yuan/km between 3 and 10 km. You need to pay 3.6 yuan/km beyond 10 km. At night time (23:00-05:00) the flag down rate is 18 yuan and the extra fee for every kilometer is 3.1 yuan. If beyond 10 km it is 4.7 yuan/km. It is about 150 yuan from the station to Pudong Airport and 50 yuan to Hongqiao Airport.
By Bus
If you are familiar with the city and have enough time with no luggage, you could use the buses. There are numerous bus lines passing by the South Square and the North Square outside the station to every direction of the city.
Private Transfer
If you are not familiar with the city and tired after the long journey, or if you are with your family or many people together with lots of luggage, we could arrange a private transfer from only $27 p/p from the station to your destination. Once booked you can just sit back and relax upon arriving and let our guide and the driver do the rest for you.
Shanghai West Station
Shanghai West Station (上海西站 Shanghai Xi Zhan) is the smallest railway station in Shanghai. It was known as Zhenru Station (真如站) from 1905 to 1898. The station was renovated in 2006, and put into use again as of 2010 for the operation of the Nanjing–Shanghai High-Speed Railway. Now it mainly serves CRH trains running between Nanjing and Shanghai with stops including Changzhou and Suzhou. Two ticket windows and four ticket machines are available.
Add: 22 Taopu Road, Zhenru Town, Putuo District, Shanghai
Trains Offered
| | | |
| --- | --- | --- |
| Train | Arrival | Departure |
| G7213 (Suzhou-Shanghai) | 15:11 | 15:12 |
| G7203 (Wuxi-Shanghai) | 10:46 | 10:47 |
| G7050 (Shanghai-Nanjing) | 11:22 | 11:23 |
| G7040 (Shanghai-Nanjing) | 8:22 | 8:23 |
| G7068 (Shanghai-Nanjing) | 17:26 | 17:28 |
| G7079 (Nanjing-Shanghai) | 21:05 | 21:06 |
Transportation
By Subway
Subway Line 11 serves Shanghai West Railway Station. Line 15 and 20 are under construction for this station.
By Taxi
It is not hard for passengers to take a taxi outside the station. The following shows the taxi fare from Shanghai West Railway Station to several main destinations.
| | | | | | |
| --- | --- | --- | --- | --- | --- |
|   | Hongqiao Railway Station | Hongqiao Airport T2 | Shanghai South Railway Station | Shanghai Railway Station | Pudong Airport |
| Taxi Fare | 70 Yuan | 80 Yuan | 70 Yuan | 30 Yuan | 200 Yuan |
By Bus
Buses 1, 106, 117, 129, 319 (night), 551, 742, 768, 807, 944, and the Xishe Line serve Shanghai West Railway Station.
Shanghai Hongqiao Railway Station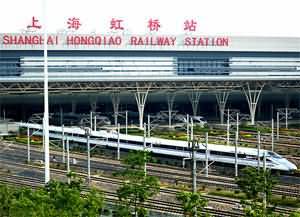 Most of the bullet trains and high speed trains departs and stops here. Hongqiao Station is mainly responsible for high-speed rail passengers' departure and arrival, the Shanghai Railway Station, Shanghai South Railway Station is mainly for common speed trains. Currently Shanghai Metro Line 2 (5:33 AM~ 22:48PM) and Line 10 (5:55AM to 22:00PM) can get you to Shanghai Hongqiao station.
Transportation to Airpot
Shanghai Train Station Transfers
We offer Shanghai Hongqiao Terminal to Shanghai City hotel or to Shanghai Pudong Airport Terminal transfers by private guided service to maximize your time.
Shanghai South Railway Station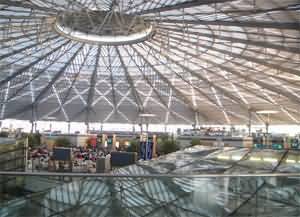 Shanghai South Railway Station is located in the southwest of Xuhui District, about 5 km away from the city center. It is next to Liuzhou Road on the east and west to Humin Road.
The waiting hall coveres an area of 60 hectares. The upper floor of the waiting room is for train departure, with an 800m long departure platform in ring circumference. It can accommodate more than 10,000 people waiting here, and a large ticket checking pass way. The first floor is for passengers' arrival while the underground subway is convenient to find your way in and out by metro. The Metro Line 1 and Line 3 pass through here.
Get there:
Shuttle Bus from Shanghai South Railway Station to Shanghai Pudong Airport
Bus line 7 (机场7线) from South Railway Station to Pudong Airport operates every day.
The bus line 7 departs in South Square of Shanghai South Railway Station where bus 144/973 also depart there. It takes about 1 hour at 20 Yuan for the whole way.
Departure Station
Shanghai South Railway Station
Shanghai Pudong Airport
Terminal
Shanghai Pudong Airport   
Shanghai South Railway Station
Departure Time
6:50-21:30
T1 7:30-23:00
T2 7:35-23:05
Interval of Departure

 

30 minutes
30 minutes
Ticket Fare

 

20 Yuan
20 Yuan