Ningbo is a beautiful coastal city with stunning natural sceneries and rich in cultural heritage. It is the birthplace of Hemudu Culture (河姆渡文化) dating back to the Neolithic era , which has a history of over 7000 years.
This article explores some options for visitors wanting to see some of the stunning attractions that the city has to offer.
Mount Putuo 普陀山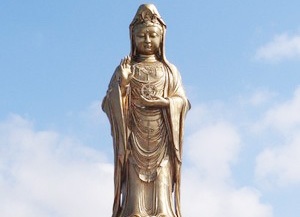 Mount Putuo, located in the southern edge of Hangzhou Bay and off the coast of the eastern sea of Zhoushan Islands, belongs to Putuoshan District of Zhoushan City.
During the Tang dynasty, along with the development of sea Silk Road, Mount Putuo became the center of Chinese Buddhism, especially for Guan Yin. The major temples are Puji Chan Temple, Fayu Chan Temple and Huiji Chan Temple, boasting the largest among the 20 preserved temples there. They were all constructed in tranquil surroundings to worship Guan Yin. In addition to these temples, there is a large Institute of Buddhism, one of the largest Buddhist academic institutes in China.
There are three well known festivals held there – Nan Hai Guan Yin Cultural Festival in November, Guan Yin Incense Festival and The Spring of Mount Putuo held every March. The Guan Yin Incense Festival of Mount Putuo is the most popular. Every year on February 19, June 19, and September 19 of the lunar calendar, it welcomes millions of people for the celebration from home and abroad.
Apart from the temples, Mount Putuo is known as a haven of blue sea, golden beaches and sun, ideal for a relaxing weekend or to get away from the hustle and bustle of the city. The island boasts a few excellent beaches on each of its corners, among these, the Qian Bu Beach (A-Thousand-Paces Beach) and the Bai Bu Beach (A-Hundred-Paces Beach) are the most famous and are regarded as the best beaches near Shanghai!
Not only known for its beaches, but Mount Putuo has been known as "Garden in the Ocean". There are countless of ancient trees, like the thousand-year old ginkgo tree and the thousand-year camphor tree, standing 20 meters tall and has a gird of 8 meters. The entire tree covers an area of over 1000 square meters (close to 10,000 square feet). There are also many rare vegetation.
Tianyi Square 天一广场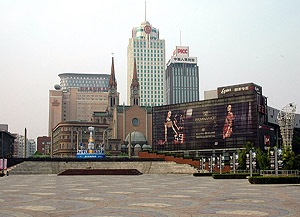 Tianyi Square is the most prosperous area in Ningbo City. It covers an area of approximately 350,000,000 square meters, surrounded by 22 buildings, each about 3-4 stories. Inside the square you will see the musical fountain, special water curtain film, corridor on the Water Street, the Catholic Church as well there are many modern department stores
Every day thousands of people flock the square for shopping, eating and entertainment - fashion shows and big events are often held in Tianyi Square. It is vibrant and has a pleasant atmosphere.
Tianyi Pavilion Museum天一阁藏书楼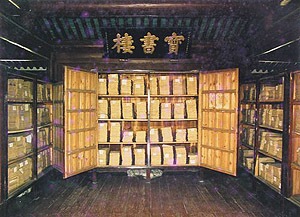 Tianyi Pavilion lies on the west of the picturesque Moon Lake of Ningbo City in Zhejiang Province. It is the oldest surviving private library and museum in China, and also one of the three oldest family libraries in the world. It was built during 1561-1566, originally built as a private library for an official in the Ming Dynasty. It now holds different kinds of ancient books with 300,000 volumes. These books cover local chronicles and imperial examination records of the Ming Dynasty.
Covering an area of 16,000 square meters, Tianyi Pavilion is divided into three functional areas of book-storing culture, exhibition and gardening leisure. Today you can visit this charming place set in a quiet and tasteful surrounding and explore the historical, educational and economic development and culture of Ningbo City.
Ningbo Cicheng Ancient Town Site 宁波慈城镇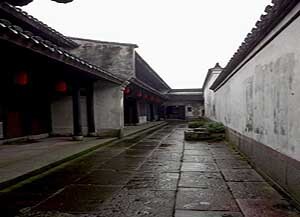 Cicheng Town is 10 kilometers northwest of Ningbo City. Cicheng Town was named for commemorating a loving mother and her obedient son. Loving means Ci in Chinese hence the name. Locals there are very proud of the background of the story.
With its long history, the town is known far and wide as the "Most Charming Ancient Town South of the Yangtze River" for its beautiful scenery, the city walls and abundant cultural relics and preserved traditional buildings, like that Confucius Temple, ancient wells and memorial archways. Other famous attractions are the Ci Lake, Yun Lake, Mount Lion, Mount Dabao and Mount Qingdao.
Ningbo Chenghuang Temple Market 宁波城隍庙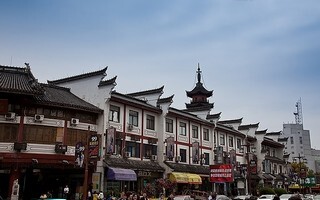 The market is situated in the heart of the most prosperous business zone. It was first built in 1371. Over the years, the building had been destroyed by fires, and it was reconstructed in 1884 and remains as it is now. In the temple there are traditional Zhaobi which is a big screen wall, the first big gate, the second gate and an ancient theater platform. There are also more than 30 tablets of inscriptions and ancient wells dating back to the Song Dynasty that can be seen in the temple.
The area around Chenghuang Temple has many local shops, selling clothes and accessories at relatively cheap prices! If you have a couple of hours on hand, it's worth exploring and you may be able to find good bargains!
Wulong Pond 五龙潭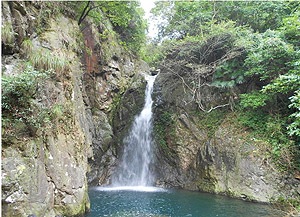 Wulong Pond is located in Longguan Town of Yin County, approximately 35 miles away from Ningbo. The area is large with many towering mountains, tranquil valleys and crystal streams. It is also a holy place for Buddhist worshippers, with a strong emphasis on the strength and characteristics of Dragon Worship. The area is divided into four parts, including exhibition of folklore culture, sightseeing of the dragon pond and waterfalls, a leisurely area for entertainment and a recreational area for relaxation.
Wulong Pond has a long history and is famous for its five wells, 12 waterfalls and sacrifice altar for the dragons. Since ancient China, local people believed firmly that Wulong Pond blessed the people's plea. Walking into the area, visitors will pass ponds after ponds on their way up to the waterfalls, which offer a cool and comfortable place for visitors.
For the more adventurous and serious hikers, there are hiking trails that lead up to the mountains.
Xikou Town for Tomb Passage of Jiang's Mother and Mount Xuedou 蒋母墓道和雪窦山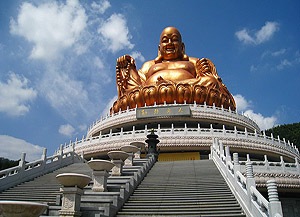 Xikou Town is one of the most famous towns in Fenghua County, Ningbo. It is located on the western part of Fenghua, 20 miles southwest of Ningbo, surrounded by Wu hills, Mount Xuedou and Yan Stream. It is the hometown of Jiang Jieshi, the leader of the Kuomingtang Ruling Period. Not only it is known as a historical cultural town, but it also has stunning sceneries and features Mount Xuedou. When people talk about traveling to Xikou Town, most say it's a must to see Mount Xuedou and the Tomb Passage of Jiang's mother.
Mount Xuedou is notable for its beauty and natural scenery. A lot of sightseeing spots and paths dot the area, such as the Xuedou Temple and the Xuedou Waterfall that stands 610 feet. A great get-away to enjoy the pleasant and charm of nature!
The Tomb Passage for Jiang's Mother is the burial place of Jiang Jieshi's mother. The area is vast with several buildings for different purpose in the forests. There is a house named Ci'an(慈庵)for Jiang's families to take a rest when visiting and sweeping the tomb. This is another quiet and charming place to take a stroll and enjoy the peaceful surrounding.