Day 1
Shanghai to Suzhou by Train No. D3022 (Shanghai Hongqiao Railway Station - Suzhou Railway Station) Dep 09:04 - Arr 09:38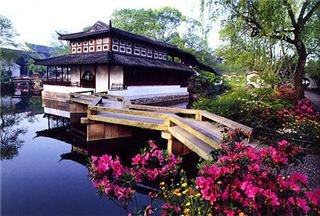 You will go to Shanghai Hongqiao Railway Station on your own. The train ticket will be delivered in advance to your appointed place. If you want the transfer service, your travel advisor is also happy to assist you.
Your tour of this ancient but beautiful city commences after breakfast. Suzhou and its famous gardens was one of the few cities in China to avoid the ravages of Cultural Revolution.
The Humble Administrators Garden which is the biggest and most famous typical garden in Suzhou. Walking into winding alleys between big trees, ponds and rockeries is like stepping back into the Ming Dynasty.
Have lunch in a local restaurant to taste Suzhou Cuisine.
The smallest garden but not the least is Lingering Garden which has all characteristics of a classical garden and is a masterpiece among southern gardens.
Meals: Lunch at Popular local restaurants
Hotels: Pan Pacific Suzhou | Hotel Soul Suzhou | Garden Hotel
Day 2
Suzhou to Shanghai by Train No. G7139 (Suzhou Railway Station - Shanghai Hongqiao Railway Station) Dep 16:20 - Arr 16:45
Tongli Water Town is about 1 hour from Suzhou, an excellent choice to experience the water town folk culture. Tongli is famous for its gardens, buildings and 3 classic bridges.
Stroll through Tuisi Garden which is a World's Cultural Heritage listing to enjoy the clever use of a small space. Chongben Hall and Jiayin Hall sit opposite each other and are classic ancient buildings in this quaint water village.
Take lunch in a local restaurant and walk over the Taiping Bridge, Jili Bridge and Changqing Bridge. These 3 bridges are located at the junctions of rivers, naturally forming a ring.
Flash back to ancient times by taking a boat ride on the tranquil waterways and see the scenery along the canals.
Your Suzhou guide will transfer you to Suzhou Railway Station to take your train. After arriving at Shanghai Hongqiao Railway Station, the tour comes to an end. If the pickup service is needed, just tell your travel advisor when booking.
Meals: Breakfast, Lunch at Popular local restaurants
Hotels: