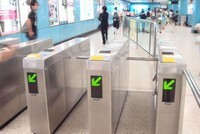 After purchasing your ticket, enter the subway platform area through the turnstiles. Find a turnstile with a green light, which indicates that it is available to use. Hold your card or ticket up to the right hand side of the turnstile so it can verify your entrance. Once it recognizes the ticket or card, you are allowed through the turnstile and can wait for your train at its corresponding track. Certain stations, like many between Line 3 and Line 4, share platforms, so be sure to pay attention when trains arrive in the station.
Make sure you hold onto your ticket or card for the entire journey. You will need them to exit the subway station. Just like entering the station, hold your card up to the right hand to verify your journey at the end of the trip, and to pass through the turnstile and exit the building. The turnstile ticket reader will keep your single journey ticket, and only return souvenir tickets or one-day passes.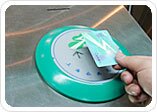 As in any large city, crowds can get big and pushy. People often get pushy for seats, which is the norm. The locals don't seem to mind being packed into the subway cars like sardines. Even though Shanghai is a safe city, please be aware that the subway, just like any other crowded area, can be dotted with pick-pocketers. Keep your purse and your wallet close to you at all times.