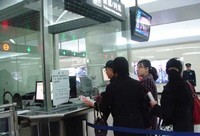 When traveling around the Shanghai by foot or car, you are bound to see signs clearly marking entrances to the subway stations. Follow these signs into the station and down into the landing area where tickets for the transportation can be purchased. Locate the ticket office or automated machines in the subway terminal. Three different choices of tickets are available for purchase. Riders can buy a single journey ticket, pay for or load up on their Shanghai Public Transportation Card or purchase a souvenir ticket. Each station at least comes equipped with automated machines that offer service in English (as well as Mandarin) and easy to use touch screens that you step by step through your ticket purchase. Fares typically average anywhere from 3 to 9 yuan, depending on the distance traveled.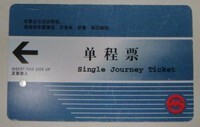 The Shanghai Subway (or sometimes referred to as the metro) cards can be purchased at many stations through automated machines and ticket counters. Instead of using individual tickets, the transportation authorities have created a card system that allows riders to charge and recharge their metro cards for various trips. A subway card has a 20 yuan deposit, but if it is clean and intact, the money is fully refunded to you when you return the card. Metro cards can be purchased with 50 and 100 yuan notes or with various credit cards.
If your card still has a balance when returned, your money can be returned to you in one of two ways. If the remaining balance is 8 yuan or less, the cash is given immediately back to you. If the balance is anywhere from 10 to 2,000 yuan, an invoice is given, and a 5% handling fee is charged. Although the cards can be purchased and loaded up at almost most major station, the Shanghai Public Transportation Card Service Center is located at No 609, Jiujiang Road for any additional needs. Also, special offices that assist in the returning of metro cards can be found at Line 1 - Hanzhong Rd, Hengshan Rd, Jinjiang Park; Line 2 - Jiangsu Rd, E Nanjing Rd, Century Park, Songhong Rd; Line 3 - Dongbaoxing Rd, Zhenping Rd, Caoxi Rd, North Jiangyang Rd; Line 4 - Yangshupu Rd.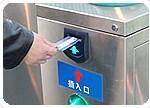 Additionally, one-day cards are a popular option for tourists in the city. These set priced cards allow you to travel as much as you want, as far as you want, in a 24-hour period. The price for a one-day card is 18 yuan. These can be purchased through the automated machines at the subway station. Note that these machines usually take smaller yuan coins as opposed to larger bills.