Passengers can buy train tickets at the station, ticket offices in the city or online. If buying online, passengers can book tickets 20 days ahead of departure. Ticket pre-booking is available at the station 18 days before departure. It is wise to book tickets as early as you can in China, as train tickets soon sell out. High-speed tickets will be easier to buy due to their higher price.
During peak seasons, such as during May holidays, National Holidays, the Mid-fall Festival, the Spring Festival, summer holidays and winter holidays, tickets are sold out quickly. For most people, it is hard to get tickets at these times, and it is suggested that you avoid these periods for traveling in China.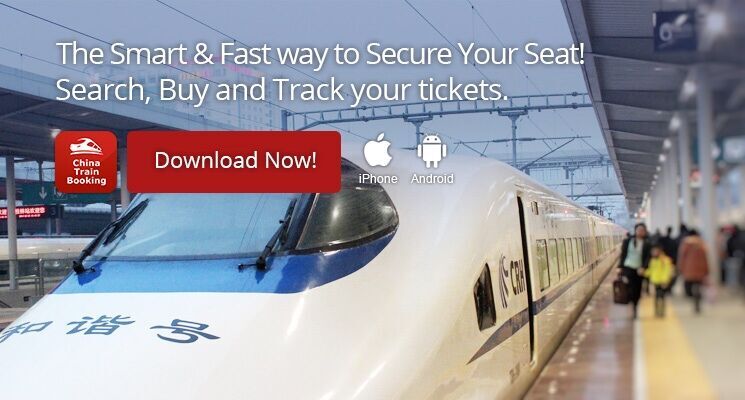 At the Station
If you are already in China, you can go to the station to buy tickets at ticket windows. It is still recommended you buy the ticket as soon as possible, even at the station. In Beijing (Beijing Main Station), Xian and Shanghai, special English-speaking ticket windows for foreigners are offered. Note that foreigners cannot use the self-service machines at the station to buy tickets, as the machines require a Chinese ID card and a Chinese bank account for the payment.
When buying tickets, foreigners need to present their passports, temporary residence permits, exit-entry permits or diplomatic certificate.
Passengers can buy tickets for any route in China at any station at an extra cost of about 5 Yuan. If you are buying tickets for a route starting at the station you are at, you do have to pay the extra fee.
As mentioned above, one can also buy train tickets at local ticket offices in the city. However, all of them speak Chinese only. It would be better to ask your hotel to help you write down your destination, departure date, time and class in Chinese so that you can more easily get the right tickets. Double-checking the ticket information with the help of your hotel staff would be a good idea.
Outside China
People outside China planning to buy train tickets in advance can buy them online. The Chinese national railway official website, 12306.cn, is the most popular website for booking train tickets. However, it is in Chinese and available for people holding a Chinese banking account only.
A better way would be to find a Chinese travel agency who can help book the tickets at extra cost, which varies according to the agency. Shanghai Highlights Trains offers an English version for Chinese trains where you can check and book the tickets you need.
What's the Difference in Ticket Prices?
Train ticket prices differ a lot for different classes and train categories. Take Shanghai to Beijing as an example. A G-train costs 553 Yuan for a second-class seat and 933 Yuan for a first-class seat. A D-train's second class-seat costs 408 Yuan for about 10 hours, or 309 Yuan for about 12 hours, 648 Yuan for a first-class seat and 1173 Yuan for a soft-sleeper. The T, K and Z-Train costs 177.5 Yuan for a hard seat, 325.5 Yuan for a hard-sleeper berth and 497.5 Yuan for a soft-sleeper berth.