Chinese landscape architecture is well known for its gardens which are really something special and beautiful. The city of Shanghai has five marvelous gardens, and each of them has something special about it. The Zuibai Chi garden is amongst the oldest and its beauty is quite unique and rather special.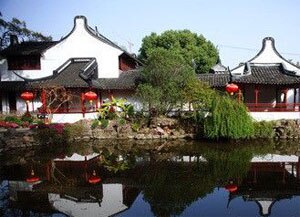 All of the Chinese gardens could be basically divided in three groups: landscape, imperial and private gardens, and the Zuibai Chi is one of the private ones. It was first built as a private villa for a scholar named Zhu Zhichun some 900 years ago, and it makes her one of the oldest gardens in Shanghai. During long centuries, it was undergoing various changes and the original setup differs quite significantly from its modern day's appearance. Still, the influences of all eras are clearly visible and it gives a quite lovely mixture. It features numerous pavilions, corridors and bridges, but it is most famous thanks to its lotus lake.
Dong Qichang, a great poet of the Ming Dynasty era used this garden as the place where he was making his poetry and it was also used as a place for drinking. Actually, many poets were making their poems here through the long history of this place.
During the Qing Dynasty, it belonged to Gu Dasheng, a famous artist and he is responsible for its name. Namely, he was a great admirer of the poet Libai so he named the garden Zuibai Chi which means that if Libai ever visited this garden he wouldn't wish to leave but would stay there. Gu Dasheng also did some alterations, planting many plums and bamboos and arranging the strange rocks so the garden got the traditional south Chinese appearance.
The Lotus Pond
The Lotus pond in this garden is a quite unique feature. It has the surface of about 700 square metres and many precious lotus flowers are growing inside it. The pavements, pavilions and arched bridges are surrounding this place and it looks rather impressive in this setup. The whole place is radiating the peace and calm and is one of the things that you simply must see if you are visiting Shanghai.
Travel Information
Location: No.64 Renming Road, Sungkiang District
Transportation: Song-mei, Song-hu, Hu-song lines and the special tourist line
Admission fee: RMB 12
Open Hours: 08:00 to 17:00