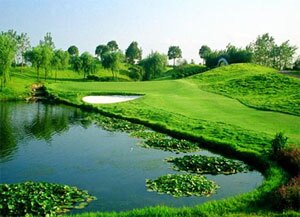 Sun Island is a magnificent island located in the Mao River about 45 minutes from downtown Shanghai, in the Qingpu District. This small island is a popular tourist attraction and has a wide range of outdoor activities for people of all ages. The island itself is merely 4,000 meters long, and 700 meters wide, but what it lacks in size, it more than makes up for by providing excellent accommodations and tons of activities.The island has an international conference center, golf courses and plenty of recreational activities.
Sun Island can trace its roots back to the Western Zhou Dynasty, when it was referred to as the Mao Island. The best look at its historical significance is the beautiful crafter Mao Pagoda that was built over 1,200 years ago. It is believed to be one of the only ancient lighthouses still standing in China, and is open for visitors free of charge. The island has become a popular resort area that attracts thousands of visitors and conventions every year.
Main Sites on the Island
Sun Island is a well-known for its two, 18-hole golf courses that attracts avid golfer from around the world. These 72-par golf courses were designed by Nelson, Wright and Hawthorn Golf Course Architects Group, and include various sand traps and water hazards to add to the complexity of the courses. The island is also famous for its natural spring spas, and is home to The Wellness Research Center that combines Traditional Chinese Medicine with the different spa treatment to create an overall wellness program.
In addition to golfing and spa treatments, there are plenty of recreational activities to do on the island, including horseback riding, riding go-carts, bowling, cycling and a large wave pool. Visitors can also take a ride along the Maohe River on a luxury yacht or speed boat. As the only natural island in Shanghai, it provides many panoramic views of the surrounding area. There are also a number of restaurants on the island that offer both local Chinese cuisine and western-style foods.
When visiting Shanghai, Sun Island is well worth the extra trip to see. There are so much to do for people of every age. Whether you enjoy golfing, relaxing at the natural spring spas, horseback riding, swimming, bowling, or walking along the stretch of beach, this island has it all. This island is the perfect spot for anyone who enjoys various outdoor activities.
Travel Information
Admission fee: RMB 30 for adults and RMB 15 yuan for children
Inquiry Phone No.: +86 (021) 6186-9650
Resort Phone No.: +86 (021) 6186-9688
Website:www.sunisland.asia/en/our-place.html
Getting there
The island is only accessible by the bridge along the Huqingping Highway, and guests can drive there themselves or schedule a private tour bus to take them directly to the island. Although the area may be more crowded, it is still recommended to visit Sun Island during the spring or summer months. Contact us if you need the private transfer from where you stay in Shanghai to the island.