The Square Tower, located in the Songjiang District of Shanghai, is one of the best-preserved ancient towers in China. This historic pagoda stands 48.5 meters high, and has an incredible history of more than 1,000 years. Beautifully landscaped traditional and modern-style gardens, as well as, other popular historical sites, like the Screen Wall and its unique sculpture, surround the tower.
History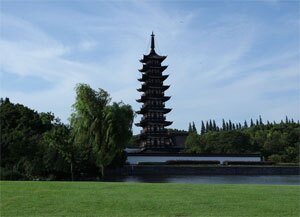 The site of the Square Tower originally housed the Xingsheng Temple that was built in 949 AD. During the Tang and Song Dynasty, the Songjiang District became a very busy and important trading center that actually competed with trade in Shanghai. The temple was then replaced by the current Square Tower during the Song Dynasty between 1068 and 1094. Thankfully, the tower has been well-preserved through the years, and stands as a prominent historical building in China. From 1975 to 1977, the tower was renovated, and was later named a National Key Historical Relic in 1996.
What to see
The gorgeous Square Tower stands a massive 48.5 meter and is nine stories high. The four-sided pagoda is built primarily from wood and bricks, and attracts thousands of visitors every year. Until recently, visitors to the Square Tower were permitted to climb all nine stories of the tower to the top level, but now guests can only go up to the fifth floor. However, even this level provides magnificent views of the gardens below and the surrounding area.
Surrounding the pagoda are beautifully landscaped historical gardens that visitors can enjoy, especially in the springtime when the flowers are in bloom. Near the Square Tower is the well-known Screen Wall that once protected the Temple of Sungkiang until it was demolished during the Anti-Japanese War. The 4.75-meter high and 6.1 meter-long Screen Wall is worth the trip to see. The sculpture named "Greed" is by the wall, and is a combination of monster, deer, lion and ox. The story behind that sculpture is about a monster named "greed" that ate everything it saw, but when it tried to eat the sun, it was swallowed up by the sea.
The Square Tower is very well preserved, and provides a unique look at the history and culture of the Songjiang District of Shanghai. As a protected historical relic, this tower is well maintained and gives guests a close look at the traditional Chinese architectural and horticultural styles. The attraction is worth the trips and provides a glimpse in deep history of the Shanghai area.
Travel Information
Address: Square Tower South Road no.1, Sungkiang District
Opening Hours: 8am to 5pm, daily
Admission Fee: RMB 12
Get There: Taking Song-hu Line, Hu-song Line or the tourist Line. Visitors can also take the Metro by first taking Line 8 and then transferring to Line 9 heading towards the Songjiang New City Station, where they can then take the Bus Number 22.