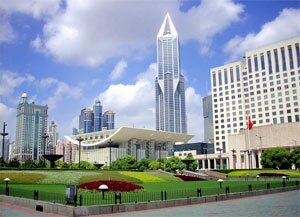 People's square is a spectacular space in the heart of the city. It is a garden-type open space surrounded by buildings and facilities for administration, cultural activities, transportation and commerce. The People's Park, People's Mansion and Shanghai Museum are sitting on the central axis. The central square lies between People's Mansion and Shanghai Museum with two smaller squares on each side. The total area covers up to 1,806,600 square meters. It is arranged with a 320-square-meter water fountain, a Shanghai map and the ground is laid with granite stone. There are 36 lights with stereo around the central square and 6 pieces of relief which reflect history and culture of Shanghai.
Two small pieces of grasslands are decorated with flower terraces and sculptures. The large square is circled with a green belt made up of camphor trees, pines and shrubbery. A stone path, lined with chairs, wanders through the green belt.
People's Square is also the converging point where metro Line 1 meets Line 2. From the square you can reach many shopping centers.
Leaving metro Line 1, tourists enter a street where famous shops from Hong Kong assemble and get to Dimei shopping mall, a shopping center like a maze.
Going from metro Line 2, you can come to an old street lined with old-styled jewelry shops, restaurants and teahouses, which reminds you of the old days. From the entrance to metro Line 1 to the No. 9 entrance of metro Line 2, lay an underground department store and a restaurant from which you can arrive at New World City, another shopping mall. Just around the corner is the famous Nanjing Road.
Travel Information