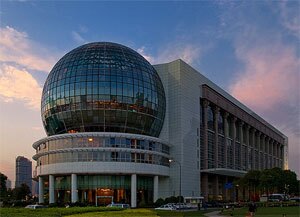 The Shanghai International Convention Center is situated in the Lujiazui area and it is one of the most important landmarks there. It hosted some of the biggest events in the history when it comes to the summits, conventions and meetings.
Looks very impressive from the outside, Shanghai International Convention Centre has a lot of incredibly spacious sections that are able to host even the biggest of the events. Of course, it is not solely dedicated to grand events and there are smaller facilities available for all sorts of conventions and exhibits, no matter their size. It has some 28 conference rooms with the capacity from 20 to 3,000 people and it makes it perfect for any possible occasion. The total available space of this place is some 110,000 square metres and that says a lot about its capacity.
Even better, within the complex there is a top class hotel that provides all of the services needed to accommodate attendants to the events held in the Shanghai International Convention Center. So, every single aspect is more than well covered and there is not a service that can be demanded concerning conventions that this complex isn't able to provide.
The Grand Banquet Hall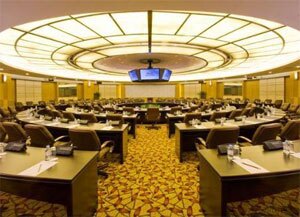 The Grand Banquet Hall is one of the biggest banquet halls available all around the world and the curiosity is that it has no supporting pillars at all. This makes the surface of 4,400 square metres the compact unit undivided by any obstacle and the view at it is simply breathtaking. It is available to use as a meeting place and in those cases it can take up to 3,000 people at once, while when it is organized as a place for meeting and dining at the same time it can host up to 2,000 people. The very idea of getting so much people comfortably at one place and at the same time is more than intriguing.
The Press Conference Centre
This facility is a bit smaller than the Grand Banquet Hall and it covers the surface of 3,600 square metres. It is one of the most modern press conference centres in the world and there is not a single thing needed for organizing huge press conferences that this place doesn't allow. It is packed with the state of the art technology which allows the journalists to have all of the options covered.
Oriental Riverside Hotel
Although this hotel is not the integral part of the centre, it is affiliated to it and it allows more than comfortable and cosy accommodation for all of the participants of the conventions.
Travel Information
Location: Bingjiang Road No.2727
Admission Fee: RMB 50 per person
Open Hours: 08:30 – 16:30
How to Get There: Metro line 2 till Lujiazui station, Buses 621, 583, 776, 623, 778, 872 and 870.