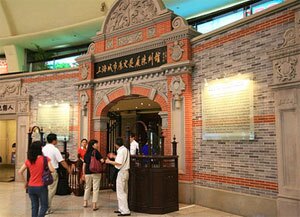 Shanghai History Museum located beneath the below the Oriental Pearl Radio & TV Tower was founded in 1983, and formally opened to the public on May 27, 1984. It was a comprehensive museum reflecting the development of Shanghai and surrounding areas from every aspect, by means of more than 1,300 cultural artifacts, literature, and pictures. It presented a holistic picture of the long history of Shanghai from remote antiquity to the liberation of the city in 1949.
The displays covered Shanghai civilization for over 6000 years, including Ma Jia Bing Culture, Songze Culture and Liangzhu Culture. It also reflected local history from the First Opium War in 1840, when Shanghai was forced to operate as a treaty port and then the foreign concessions become a key part of Shanghai's history and later liberation.
History
Preparation for the Shanghai History Museum began in 1954 on a temporary site in the 5th Hall of the Shanghai Agriculture Exhibition Hall. In October 1991, the original name 'Exhibition Center of Shanghai Historical Relics' was changed to 'Shanghai History Museum' and in October 1994 it moved to 1286 Hongqiao Road.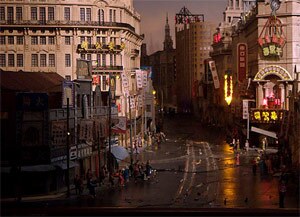 At that time the Shanghai History Museum's main purpose was for the exhibition of contemporary history and city development in Shanghai and the collection had grown to over 1,500 artifacts, cultural relics and display items. It covered the period from 1843 to 1949 in Shanghai, including the rise and fall of Shanghai concessions, wartime experiences, improving standards if living, and rapid economic development, against the backdrop of a unique mix of local and exotic culture and the ebb and flow of various political powers. The exhibition closed in March, 1999 because the lease term was due.
In May, 2001, the Shanghai Municipal History Museum (owned by the Shanghai History Museum) re-opened to the public below the Oriental Pearl Radio & TV Tower. There are five main sections providing a vivid presentation of how Shanghai developed from a small seashore fishing village to become the biggest city in China. Much of the Museum's collection is on display here, with waxworks, dioramas and life size recreations of old Shanghai.
Other parts of the Museum's collection are loaned to other Shanghai Museums for temporary exhibitions from time to time, as it does not have another permanent exhibition area.
Collections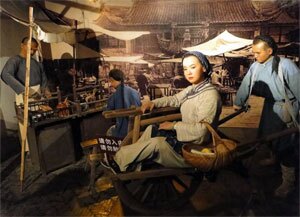 Shanghai History Museum now has a growing collection or artifacts , falling into 15 categories: painting and calligraphy; gold and metals; porcelain; handcrafts; seals; cultural materials; printings; textiles; stone carvings; currency; photography; paper-cutting; stamps; phonorecords and miscellaneous items.
The most important and famous collections in the museum include stoneware, porcelain, jade ware, gold and silver ware, the writings of Xu Guangqi, Currency of the Taiping Heavenly Kingdom, the bronze lion of the HSBC, Shanghai Local Chronicles, Books of Rubbings, the writing of Wu Changshuo, Votes for Sun Yatsen be elected as the Temporary President and a Bronze Cannon and many other important historical objects.
Travel Information