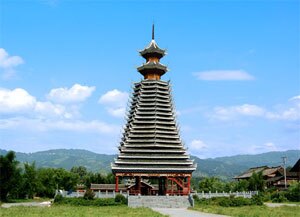 China is one of the biggest countries in the world and many nations live in it. Of course, the Chinese are the main inhabitants of this country, but there are also some minority nationalities living in it as well. Of course, in most of the cases these minority nationalities are treated as the additional benefit in terms of cultural diversity. This approach is best seen in the Chinese National Grand View Garden.
Chinese National Grand View Garden is an elaborate museum that presents the largest and most complete ensemble of folk custom and culture for all the minority nationalities in China. It is specially designed to honour those minorities and to show their main characteristics to the world which covers the items of not less than 56 minority nationalities: their cuisines, traditional outfits, wedding ceremonies, craftworks, singing and dancing customs are well presented.
According to different culture and religion, it is divided into 10 minority villages, which fully display the clothes, food, daily life, dances, arts, architectures, and wedding customs of 56 minority nationalities.
Besides, there are eight special views in the garden: the garden gate with stone forest, waterfall and a big banyan tree; center lake with music fountain; center theater and so on. Among them, the water screen movie which is shown using a water screen instead of the linenis is the most special one.
Travel Information
Location: In the vicinity of Shanghai Zoological Park
Opening Hours: 09:00 – 17:00
How to get there: the Yuantong Bus that goes from Shanghai Railway Station as well as the bus line U2 from Shanghai Stadium gets you there directly, and the Yuanye Individual Line that goes from People's Square