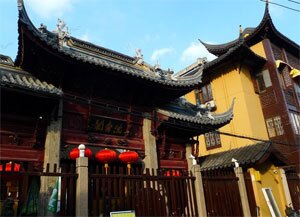 Shanghai Chenxiang Pavilion is one of the most beautiful sacral places in Shanghai. It was first built in 1600 AD, by the Emperor Wanly, of the famous Ming Dynasty. Later in 1815, it was rebuilt by the Emperor Jiaqing of the Qing Dynasty. It was named the Ciyun Buddhism Temple at the first time and was used by the city officials to celebrate the emperor's birthday during the Qing Dynasty in the times when the palace in Shanghai was still not built. The very complex is made in the classic style and it is considered to be the main temple of the Han nationality.
This pavilion has five different segments: Pavilion of Avalokitesvara, Heavenly King Palace, Hall of Sakyamuni, Yingci Master Commemoration Hall and Hall of Jialan. Additionally, it features a four pole archway which was decorated with the calligraphy produced by the famous calligrapher Shamenghai.
The Avalokitesvara
This is the statue that made this temple so famous. It is made of the eaglewood and the original one was destroyed. Luckily, the disciples from the Hong Kong donated the new one and it looks exactly the same as the original. It is quite a lively place since the apprentices and disciples from all over the world are coming there to meditate.
The Four Heavenly Kings Palace
This palace features the statue of Maitreya and four Heavenly Kings which are highly respected, as it is believed that the Heavenly kings are protecting the people and providing the rich harvest.
The Archway
Painted by one of the most famous calligraphers, the archway is unique for its beauty. The inscription on it says "Chenxiang Pavilion" and it is located on a very entrance of the complex.
Travel Information
Location: 29 Chenxiang Pavilion Road, Huangpu District
Admission Fee: RMB 5 per person
Open Hours: 05:00 to 17:00
Transportation: Bus lines 66, 932, 569, 929,801, 920, 926, and 930