Shanghai has an unique gem in his crown which is called Shanghai Luodian Ancient Town. This area managed to escape the modern time and it is done so pretty much deliberately. As the matter in fact, one of the five year plans had the revitalization and restoration of ancient places imbued in it and the Shanghai Luodian Ancient Town is one of those which were picked for the development with preservation of the old architecture. As the result, this town still has all of the architectural characteristics of the ancient times, although it is thriving economically and industrially.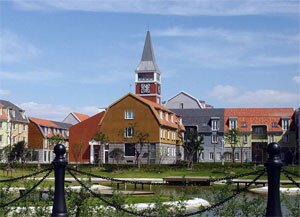 The Shanghai Luodian Ancient Town was first settled some 600 years during the Yuan Dynasty and ever since it was prospering ands growing. It's perfect positioned and the availability of the water transportation was one of the key factors for its rapid development and good economic position.
Nowadays it is the principal town in the Baoshan, and it is still a very prosperous place. Luckily, in this case the prosperity didn't mean the destruction of the previous and Shanghai Luodian Ancient Town remained the synthesis of the best things the past and the present have to offer.
The Architecture
The architecture of the Shanghai Luodian Ancient Town is really an impressive example of the traditional Chinese style. Many of the original features are well preserved and the visual impression the buildings are making is really special.
The Dragon Boat Festival
The Chinese people are well known for their festivals and as the Shanghai Luodian Ancient Town is a place by the river, it hosts a Dragon Boat Festival which looks really colourful and vivid. Every time it is attended by numerous locals and hordes of the tourists and it is the event of the great significance.
The Lantern Festival
The second great festival in this city is the Lantern Festival and it is an even more impressive sight to see than the Dragon Boat Festival. It is the happening where the light is celebrated and numerous artistic lanterns can be seen in their full beauty when this festival is being held. This is one of the things you simply must see if you are visiting Shanghai in the time when it happens.
Travel Information
Location: Luodian Town, Baoshan District, Shanghai
How to get there: Metro Line 7 to Meilan Lake Stop and then take the bus to Pengluo or buses to Pengluo, Luonan and Songjia
Admission fee: Free of charge