Chinese gardens are known to be the place of peace and serenity and they are always a good choice to go to and relaxed in the surrounding that is almost painfully beautiful. The city of Shanghai has some really nice places of this kind, but the Huilong Pond is more than unique in many ways. The meaning of the name Huilong Pond is the pond of five dragons. Namely, five rivers are flowing in to this pond and it is often referred by the locals as a pearl that five dragons were attracted to. Of course, this is all but an ordinary feature and it is no wonder that the immense beauty of this place captures the eye and calms the mind.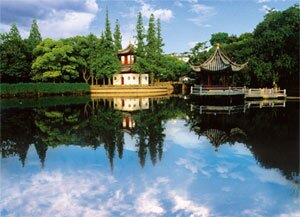 Also, there is a hill that dominates this magnificent garden and if you climb on it the view will be more than spectacular. The unique setup provided by the five rivers provides the experience that can't be found in any other garden in Shanghai and it is pretty unlikely that you will be able to see something similar anywhere in the world.
The Huilong Pond is a pretty old structure since it was built back in 1558, while the Ming Dynasty was in power. It is a good example of the Chinese medieval landscape architecture in Shanghai.
The Pond
The pond is surrounded by trees and the unique look it has is really impressive. The calm of the place and mixing of the water from five rivers is quite interesting and very beneficial in terms of relieving the tension.
The Hill
To enjoy one of the most beautiful views available, it is quite enough to climb on the hill located in this garden and it will allow you to see it all at once from there. The perspective is quite unique and the sight is more than worth of the climbing.
The Opera Stage
There is an opera stage in this garden as well. It has been built in 1888, but later on in 1976 it was moved in to this garden. It is a structure made in the traditional Chinese style and it has very rich ornaments and sculptures made with precision and it looks quite nice. It totally blends in to the place and looks very impressive in this surrounding.
Travel Information
Location: Ta Rd, No.299, Jiading Town, Jiading District
Transportation: Hujia Line, Beijia line
Admission fee: RMB 5
Open Hours: 08:00 to 17:00