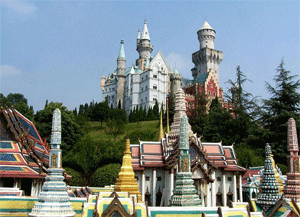 Shanghai is a large, loud, and boundlessly energetic metropolis. It is regarded as the most modern in China with all the tiresome antics that may come with such cities. Because of this, many of its citizens need a place in which to escape from the suffocating city life for just a moment. Luckily, one of the most beautiful parks in the world can be found here, the Shanghai Century Park.
Masterminded by English architects, the park is a mix of Eastern and Western landscape architecture. Here you will see influences from English, Japanese, and Chinese lawns and gardens, though the vastly different styles manage to work cohesively and harmoniously.
Shanghai Century Park is an oasis of green and tranquility in a city that runs on speed and lights. Hosting a total of 140 hectares, it is the ideal place in which to find peace in a cosmopolitan hub such as Shanghai. The park has 7 main areas:
Highlights
The Lake Islands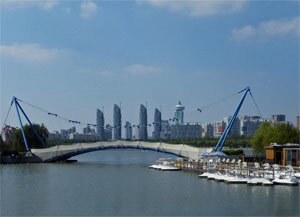 There is a lake in the park which also features small islands in the middle. Visitors may rent a boat to navigate the waters for a while, passing by the islands for a fresh perspective and experience in the park.
Bird Reserves
A most soothing sound is the chirping of birds in nature. In Shanghai Century Park, there are several bird reserves where you can admire the various species and also listen to their songs.
The Children's Park
As you can imagine, the park is incredibly popular with families and children. In the Children's Park, the young ones are able to have fun in a safe and natural environment while the adults can relax in a calm setting.
Century Flower Clock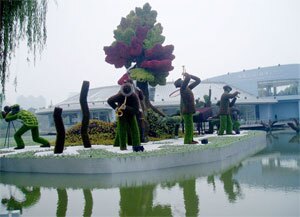 At the end of Century Avenue, visitors will find the Century Flower Clock. This icon is a large clock with many cheerful and colorful flower decorations all around.
Jingtian Lake (also known as Mirror Sky Lake)
The best way to access this beautiful lake is from Gate 1. It is the largest manmade body of water in Shanghai with lovely bird life to be seen. Jingtian Lake reflects like a mirror on a clear day, linking the sky and earth.
Outdoor Concert Stage
There are regular events held at the stage in Shanghai Century Park. This stage area is 8,000 square meters in size and can hold up to 4,000 people and certainly one of the largest of its kind in all of China. surrounded by water and foliage, this is a great place to enjoy music, performances, and other shows.
Big Fountain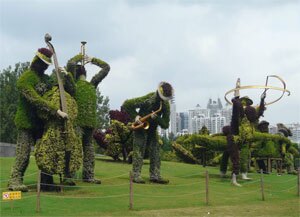 Found at Gate 7, this fountain has 327 fountain heads that result in many fine waterworks displays. More than 300 lights illuminate it at night and some spray up to 80 meters from the ground!
Bamboo Forest
Found in the Bird Protection Area, the Bamboo Forest is spread over 10,000 square meters and is home to more than 20,000 specimens of various bamboo types. It is a fun place to lose yourself in!
Bird Island
Covering 2 hectares, this attraction in the middle of Shanghai Century Park is a lovely place for birds because it is surrounded by water including Jingtian Lake. The shrubbery also makes a good home for the animals.
Montreal Garden
Found in the Bird Protection Area, Montreal Garden is comprised of an island, lake, exhibition area, café, and multimedia theater.
Small Golf Course
This half scale scale golf escape is found in the western side of the park. Although rather compact (it is 35,000 square meters with 9 holes), it is a top place for many gold enthusiasts to meet with their friends. There is a lounge, café, equipment rental store, and locker rooms that cater for a fun afternoon.
Travel Information
The best way to access Shanghai Century Park is by car or walking from within the city. However, there are many bus and metro lines that link the park with areas further out in Shanghai. Bus line 983 is the most convenient but lines 788 and 794 are also worth noting. Metro line 2 runs along Century Boulevard and can be taken to reach the park.