Shanghai Century Boulevard is definitely one of the most important and most beautiful traffic structures in the city of shanghai and it is unique by many of its features. Namely, this is not something that can be seen every day since it was designed not that much to improve the transportation in the city, but more because the unique beauty it has.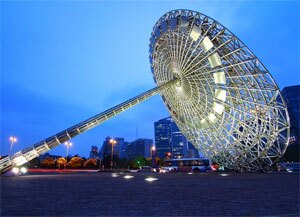 It is a very wide boulevard that is consisted of six fast and two slow lanes in each direction. This looks rather spectacular since the width of the boulevard is about 100 metres. There are also two auxiliary lanes, one at the each side of the road and they are separated from the main road with a green belt. This gives a rather special touch to the whole scenery.
The Century Boulevard is about 5 kilometres long and it is the first landscape boulevard in all of the China. It stretches from Oriental Pearl TV Tower in the eastern part of the city to the Century Park in the west. There are many interesting sites to see along the way as there are 2 sculpture squares and 8 botanical gardens placed along this Boulevard.
The Botanical Gardens
Along the Century Boulevard, on its northern side there are 8 botanical gardens in the space of only 5 kilometres. These gardens are very well taken care for and they contain some really interesting plants and trees. Still, the serenity is what's the most important with them and they will provide really nice and peaceful moments to you.
The Sculpture Squares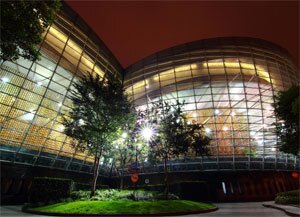 Two sculpture squares are placed at the intersection of Yanggao Road and Laoshao Road with this boulevard. All of the art lovers would enjoy seeing them and since this is a place for drive through sightseeing, it doesn't take much time to pay them a visit.
Travel Information
The ideal way to see it would be while driving through it or taking a walk, but there are also some bus and metro lines that would be able to provide you with the pleasure of seeing this great piece of the landscape architecture. If you do chose the bus, the lines 788 and 794 could be a good choice, although the line 983 is a better one. Considering the Metro, its line number 2 goes along the Century Boulevard and it can be used for sightseeing.
How to get there: Bus lines 788, 794, 983 and Metro line 2 from Lujiazui, Dongchang Road, Dongfang road, Yanggao South Road
Open Hours: All day long
Admission Fee: Free of charge