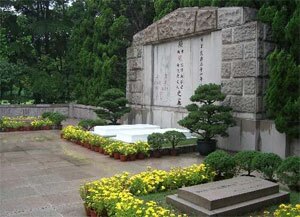 Located on No. 21 Songyuan Road, The Cemetery of Song Qingling is in memory of Song Qingling - the former Honorary President of the People's Republic of China.
She was born in Shanghai on January 27th 1893 and studied in the United States of America in 1908. In 1915, she married to Dr. Sun Yat-sen and followed and supported him during his fight for the democratic changes in China. Despite the hardship and all tests of time, she remained at his side as his wife, his comrade and his assistant. Since the age of 18, she started advocating the equality and liberty for Chinese woman and she used all possible non violent methods for her cause. Thanks to her political and cultural engagement for around 70 years, she was dubbed "The Mother of China".
When she died in 1981, her ashes were brought to Shanghai, near her parent's cemetery and to honour her, this burial ground was renamed to Cemetery of Honorary President of the People's Republic of China.
The Cemetery of Song Qingling is 262 square metres in size and it is a part of the Wanguo Cemetery. It was built on June 4th 1981 and since then it is under the protection of the state. There is a hillside behind the cemetery with cypress trees, pine trees and the flowers that she liked around. In the south of the cemetery, there is a 2,828 square metres big memorial square that amongst other things features her statue. Besides this statue, there is also one more and even bigger located at the Lingyuan Avenue and it has words of Deng Xiaoping carved on its back side.
Travel Information
Location: 21 Songyuan Road, Shanghai
Admission Fee: RMB 5 per person
Open Hours: 08:30 to 17:00
Transportation: take buses 48、73、72、113、224、141、524、251、709、806、754、808、855、814、909、938、911 to get there directly