Day 1
Shanghai to Nanjing by Train No. G7006 (Shanghai Railway Station - Nanjing(jiangsu) Railway Station) Dep 09:00 - Arr 10:39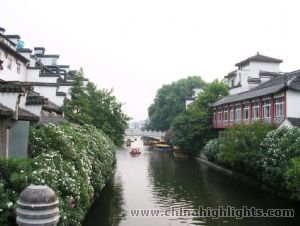 In the morning, make your own way to Shanghai Railway Station to take G7006 departing at 09:00 and get to Nanjing at around 10:39. Your Nanjing guide will pick you up at the train station. Today's tours will hit all of the main places in Nanjing. Your first stop will be Sun Yat-sen Mausoleum. Sun Yat-sen was the first president of modern day China, earning him the title of being the Father of Modern China. You will see many relics from his life as well as his burial location complete with headstone that honors this great figure from the nation's history.
Another well known place in Nanjing is Zhonghua Gate. It is the most complex of its kind in the world in terms of its structure, and it is the largest of 13 defense gates in the city. Within the old Nanjing city gates are 3 closed courtyards and 4 arched gates as entrances. This visit will provide a unique perspective into what life must have been like in China so many centuries ago.
For a taste of Chinese religion, visit Nanjing's Confucius Temple. The one here is known as Fuzimiao, as there are multiple Confucius Temples throughout China. This one was constructed in 1034 and certainly used to honor the philosopher Confucius. Today, in addition to the worship area, visitors will find many entertainment, restaurant, culture, and art venues, making it a bit of a commercial zone as well as religious.
Finally, you will go to Qinhuai River which is right next to Confucius Temple. Throughout history, the river has been the heart and soul of Nanjing, providing a water highway for all the ins and outs of commerce and social progress. There are many fine establishments along the river now, no longer the once red-light area it once was!
Today, Xianheng Restaurant will be serving you a delicious lunch. The property is right next to Fuzi Temple and specializes in Huaiyang food and snacks.
Meals: Lunch at Fangshan Cuisine
Hotels: Hilton Nanjing | Grand Metropark Hotel Nanjing | Nanjing Grand Da Qiao Hotel
Day 2
Nanjing to Shanghai by Train No. G7023 (Nanjing(jiangsu) Railway Station - Shanghai Railway Station) Dep 18:00 - Arr 19:39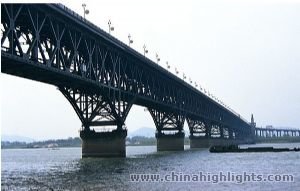 Nanjing Yangtze River Bridge
The Presidential Palace of Nanjing is today a museum. However, back when the People's Republic of China was founded in 1912, Sun Yat-sen's was sworn in here. The outside of the building is relatively austere by Chinese standards, but the inside now houses many historical collections of relics that combine to tell a piece of the country's story.
After seeing the palace, we will continue to the Memorial Hall to the Victims in the Nanjing Massacre. This massacre, also known as the Rape of Nanjing, was a most horrific time in Chinese history in World War II when the Japanese occupation in 1937 completely ravaged the city. Thousands upon thousands of civilians perished at the hands of the occupation. Be sure to be respectful during your visit to this sensitive museum.
Finally, your tour of Nanjing will conclude with a trip to the Nanjing Yangtze River Bridge, connecting 2 sections of the city over the Yangtze River. It is a particular source of pride of citizens because it is the first bridge designed and constructed solely by the Chinese. Also, it is the world's longest!
At the end of the day, your local guide will take you to the train station departing at 18:00 for your journey back to Shanghai.If you need pickup service in Shanghai, just tell our travel advisor.
Meals: Lunch at Fangshan Cuisine
Hotels: