Nanjing Qinhuai snacks food at the Confucian Temple is one of China's four recognized Snacks food types, along with Shanghai Snacks at the Temple of City God, Suzhou Snacks at Xuanmiao Guan and Changsha Snacks at Huogongdian. It has a history of over 1,000 years over Six Dynasties and has up to 100 variesties. The most famous are Duck Blood Noodles Soup, Nanjing Boiled Salted Duck, Small Cakes and Spicy Crayfish.
Nanjing Boiled Salted Duck 南京盐水鸭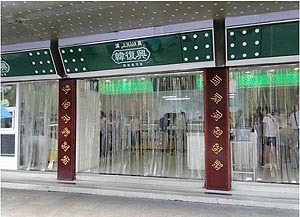 Nanjing is called the Capital of Ducks, which reflects Nanjingers' deep love for duck. Boiled Salted Duck has a history with over 1,000 years and its good smell, crisp and tenderness make it a special dish for locals. Around Mid-autumn festivals the boiled salted duck is at its best because it is made with Osmanthus blossoms. It is such an enjoyable thing for locals to have boiled salted ducks together with beer.
Recommended Restaurant
Halal Hanfuxing Boiled Salted Ducks清真韩复兴盐水鸭
Small Cakes 糕团小点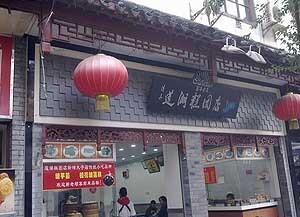 Nanjingers like sweet food not greasy or sticky but glutinous. The shapes and colors are also important. Small cakes in Nanjing are colorful, small, sweet and smell good.
Recommended Restaurant
Lian Hu Cake Shop莲湖糕团店
Spicy Crayfish 麻辣小龙虾
Spicy Crayfish is a must-eat when trying Nanjing local food at only 10 Yuan/Crayfish. If you like spicy seafood then spicy crayfish is for you!
Recommended Restaurant
Nanjing Da Pai Dang(Hunan Road Store) 南京大排档(狮子店)
Other Recommended Local Snack Streets or Restaurants
Lion Bridge Food Street 狮子桥美食街
Located in Hunan Road, Lion Bridge Food Street is one of busiest streets in Nanjing. The statues standing on the 2 sides of the street reflect old folklore, but more to the point,it is full of delicious local food and some famous restaurants.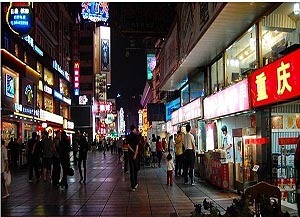 Snacks, such as sugarcoated haws on a stick, Octopus balls, Plum pudding and tenderloin, are available. The street has some well-known restaurants that worth trying. They are Yi's Dumplings in Chicken Soup, Retrospect Duck Blood Soup, Lianhu Cakes Shop, Lion Heads in King Lion Palace and Forget-not Boiled Fish with Pickled Cabbage and Chili.
Nanjing Da Pai Dang(Deji Plaza) 南京大排檔(德基广场)
Bellini (by Mira) 贝丽妮意式餐厅
This restaurant offers something all Italian. Authentic pizza and some delicious desserts are recommended. It is Ranked#2 of all Nanjing restaurants on Trip Advisor.
Taj mahal Indian Restaurant 泰姬玛哈印度料理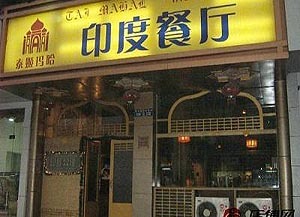 This restaurant is considered the best Indian Restaurant both in Nanjing and Shanghai. Though the outside appearance is not very appealing, the food speaks. Deep Fried Chicken Drumsticks and Garlic Naan Bread are recommended. Ranked#4 of all Nanjing Restaurants, the restaurant is more popular with foreign tourists and expats.
Finnegan's Wake Irish Pub