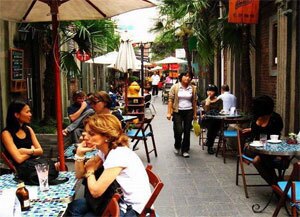 Tianzifang (田子坊) also known as Lane 210, is tucked away off Taikang Road, part of the French Concession in Shanghai. Though it has become a hot destination for foreign tourists, meaning sometimes it is crowded, it is still a nice place to visit.
The place is similar to its neighbor Xintiandi, with revamped shikumen buildings. Numerous bars, cafes, and interesting small stores with fun shop-keepers, dotted around different narrow alleys of this big maze, offer a space for travelers to get lost in a couple of hours. However, different from Xintiandi, which has a polished new look, Tianzifang shows most of its original appearance to the public.
Some special art workshops owned by famous artists in China and other countries add a bohemian feeling, and the local people who still live there (and electricity cables strung overhead) give it a more real and cordial feeling.
History
Part of Taikang Road, Tianzifang is a traditional alley, originally constructed in the 1930s with shikumen residential houses. In 1998 the road was just a small street hidden in Dapuqiao District used as a street market. In September 1998 the local government started the project "Special Streets Construction", which brought a new life to the road.
On October 28, 1998, a famous domestic cultural company settled in Taikang Road, starting the era of its role as an art street. Later several notable painters like Yifei Chan and Dongqiang Er opened their own studios there, giving the small street a reputation for art.
Around 2005 Tianzifang was specially zoned off from Taikang Road by neighboring art stores and studios. Then some local stores, tea houses, and some foreign restaurants came in.
It saw fast development from the beginning of 2007. Local people, foreign travelers, and even journalists came to investigate the small area, and praise quickly spread about this labyrinth of alleys. Later more and more stores flooded in, interesting and different from the big malls in Shanghai. It finally got the attention of the New York Times, who spoke highly of it. Now the area speaks for itself.
Our Top Picks
Tianzifang now has a range of over 200 small businesses, like restaurants and art galleries. If you want to grab some bites in this area, a couple of hours are needed. If you just want to wander around and get lost, an hour or so is ok. Though things there are a bit pricey, you will still have an enjoyable time there just looking around. Below are the top places to go to in this big maze.
| | | |
| --- | --- | --- |
| Shop Name | Specialties | Address |
| Chen Yifei Studio | A place to reveal the arty origins of Tianzifang (9:30am–5pm) | 2A Lane 210 |
| Tyakasha | / | 2 Lane 274 |
| Teddy Bear Family | A teddy-bear-themed restaurant with different fun parts including DIY teddy bear making. | 23 Lane 248 |
| Magic Mirror Studio | Change a normal photo to a beautiful oil painting. | 14 Lane 274 |
| Yatong Shop | Well-designed kids clothes by a French designer. Clothes are made of cotton cloth. | 47 Lane 248 |
| The Restaurant of Lotus Pond South Asia | Warm exotic atmosphere and delicious South Asian food | 12 Lane 274 |
| Basai Art Center | A place for real art appreciation | 200 Taikang Road |
Tips
Getting There