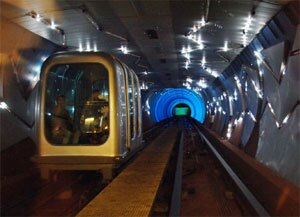 The Bund Sightseeing Tunnel goes under the Huangpu River connecting the Bund and Lujiazui Area of Pudong District. Its length is 646.7 meters.
The Bund Sightseeing Tunnel is almost a virtual facility under the ground and provides a memorable experience of the special multimedia effects. The compartments of sightseeing maglev train are completely transparent and it allows the 360 degrees view. The six channel surround system amplifies the experience and the sound effects change as the scenery changes. The compartments are unmanned and it provides steady and fluent ride. It takes 3-5 minutes to travel through the tunnel and enjoy the sites to the fullest.
The tunnel links Puxi ('West of the Huangpu') and Pudong ('East of the Huangpu'). The entrance on the Bund is located in the north of Chenyi Square, while the one in Pudong is situated on the south side of the Oriental Pearl TV and Radio Tower, facing the International Convention Center.
Travel Information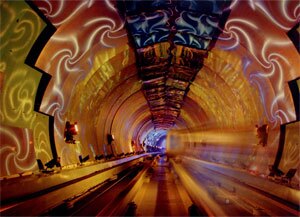 Entrances: 300 Zhongshan East First Road (Puxi); 2789 Binjiang Road (Pudong)
Opening hours: 8am–10:30pm May 1 – October 31; 8am–10pm November 1 – April 30.
Admission: 50 yuan/person one-way and 60 yuan/person for a round trip
Getting there: Take Subway Line 2 and get off at Lujiazui Station (陆家嘴站); or take bus 37, 147, or 307 and get off at the Beijing East Road junction of Zhongshan East First Road; or take Tourism Bus Line 1 and get off The Bund Waibaidu Bridge.
Half-Day Tour Package
Listen to the interesting story of the Bund and learn about the broadness and steadiness of the history of the Bund by joining our In-Depth the Bund Half-Day Tour.