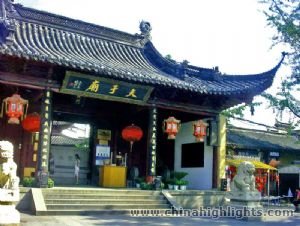 Your first tour day with us will be in Nanjing, and the first stop will be to the Sun Yat-sen Mausoleum. He was the first president of united, modern China. It is set in a beautiful and dramatic area, surrounded by verdant trees, and his sarcophagus is a striking image. Learn about the founder of the People's Republic of China for a deeper understanding of the nation's history.
Then you will visit a second burial site, the Ming Xiaoling Mausoleum dedicated to Emperor Hongwu, the founder of the Ming Dynasty. It is so grand that it has been named a UNESCO World Heritage Site. The mausoleum's site is elaborate and comprehensive, not to mention a grand example of China's royal tomb construction. Indeed, Emperor Hongwu's final resting place illustrates the power of the country's rule over 5,000 years ago.
A different type of construction to admire is the Confucius Temple known as Fuzimiao. While still a serious place of worship of the philosopher Confucius, there are many shops and commercial areas around the temple that blend a look at both traditional and contemporary China. Fuzimiao is one of the most prominent Confucius Temples in the country to this day.
Right next to Fuzimiao is the nerve of Nanjing, the Qinhuai River. Though no longer the red light district it used to be, the river continues to bustle with activity from trade as well as restaurants, shops, and more.
Meals: Lunch at Fangshan Cuisine
Hotels: Hilton Nanjing | Grand Metropark Hotel Nanjing | Nanjing Grand Da Qiao Hotel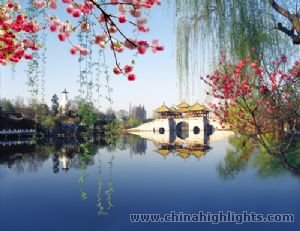 Travel to Yangzhou by private van within 2 hours' drive. Today's tours will be more focused on the natural wonders of the area rather than cultural or historical. Slender West Lake, also known as Shou Xi Hu, is a stunning body of water that is extremely narrow and runs through the north of Yangzhou. The scenes are so picturesque that they remind of old scrolls and paintings that honor the greenery in this city.
Another main reason to visit Yangzhou is to see its classic gardens. Geyuan Garden is a fine example of the gardens that proliferated in the Ming and Qing Dynasties. In particular, this location has many types of bamboos and a layout based on emphasizing the 4 seasons of the year. Heyuan Garden is another elegant garden to behold in Yangzhou. Its history is not as long as that of Geyuan Garden but it is still impressive. Due to its clever layout, the garden seems much larger than it objectively is. There are even some Western influences exhibited in Heyuan Garden because of its more modern construction. Finally, your day will conclude at Daming Temple, one of the oldest temples in Yangzhou. It is more than 1,500 years old! In realize, Daming Temple is part of a larger complex of buildings but is the main highlight. Large incense burners with bells can be found in front of the main hall, and services are held daily at 4pm. Return to Nanjing afterwards.
Meals: Lunch at Fangshan Cuisine
Hotels: Hilton Nanjing | Grand Metropark Hotel Nanjing | Nanjing Grand Da Qiao Hotel